 It's the mother of all press shows on the Irish fashion calendar.
The entire industry turns out for it at the crack of dawn every season, dressed up the nines, hair perfectly styled with a made up face that would even make J-Lo jealous. It's the one I have been waiting for, the pièce de résistance of my fashion life - the Brown Thomas press show.
Set in the newly refurbished accessories hall, Creative Director Shelly Corkery introduced the new season full of luxurious fabrics, new trends and an insight into how Brown Thomas is transforming its look (the refurbishment will be completed in November).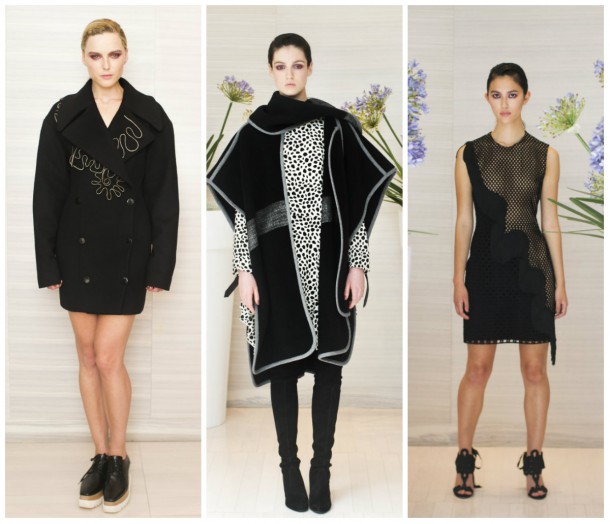 We have certainly talked a lot about Autumn Winter these past few weeks, and you are about to become more informed, so listen up!
Three words for you - black. is. back.
Sure, it never really went away, says you.
Our current seasonal love for navy may dissipate when you see what the likes of Celine, Dior, Valentino and Alexander Wang have in store (although navy is a focus at McQueen) with coats, skater style skirts and cape dresses. Erring on the side of outlandish are stripes, as seen from Dries Van Noten and at Stella McCartney too.
Ridiculously expensive? Yes. But these styles will all trickle down to the high street too so we can expect to be picking up a skater style skirt from the usual suspects in a few weeks.
Advertised
But for now, we'll continue to dream and imagine that the bank manager has decided to lodge his life savings into our account (we'll have a 'Bobby Ewing in the shower' moment a but later when we realise that we need to rummage down the back of the couch to locate that missing euro).
So what else set my sartorial heart a-beating?
Well, I loved the Stella collection, with zip motifs feature heavily on jackets and bags alike, and even Roland Mouret (known for more demure attire) is loving the zip detailing too.
In terms of decades, Brown Thomas are loving the swinging sixties, from Saint Laurent, Gucci and Louis Vuitton who all pay homage to this landmark era. And I have to mention the incredible shoes (the SHOES), especially  the iconic flat boot (I'm adding Givenchy "wells" to my ultimate wish list) to accompany a layered look of knits and tapered trousers.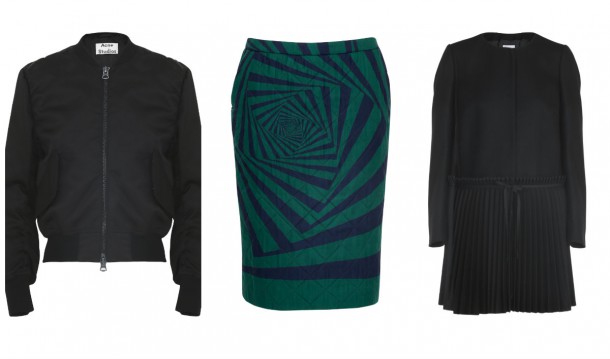 Above, Jacket by Acne Studios, €420; Skirt by Dries Van Noten, €495; Coat by Red Valentino, €710
But the fashion show wasn't without a dollop of quirk.
All eyes were diverted to the rather out-there look from Moschino thanks to it's newly appointed designer Jeremy Scott, whose love for McDonalds is channelled through the collection. There was an audible gasp when model, Sarah Morrissey appeared on the catwalk in quilted leather hot pants and matching leather boob tube made from a Moschino handbag. Not quite sure how this look will translate on Grafton Street, but I like to see the left of centre side of fashion.
If you invested in metallics last season, do not throw them away! Proenza Schoeler and Osman sparkled on the catwalk.
Advertised
There's a lot to take in here, and Brown Thomas never fails to disappoint. But 60s style, flat boots, metallics, zips and stripes (and a LOT of black) is getting ready to come atcha.
What do you think about the designer collections? Have you a favourite or an item for the money-no-object wish list? What styles are you hoping to see trickle down to the high street faster than you can say 'really, really good looking'?