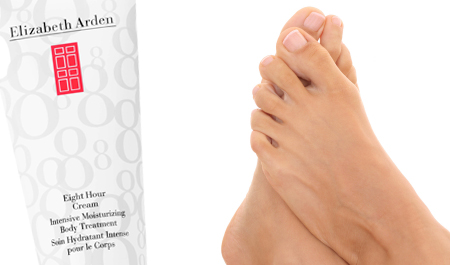 Now, I know lots of you ladies are near fanatical about body lotions and moisturisers and the like, but I have a shocking confession to make. I am absolutely brutal at remembering to use any class of moisturiser anywhere other than my face. There, I've said it. Part of the problem is probably that I'm inclined to always be cold, and am usually blimmin' completely freezing after getting out of a bath or shower, except on the warmest of days - and we don't get too many of those anymore. So standing around in the nip to slather on lotions holds rather less appeal than being enveloped in a lovely fluffy dressing gown.
This means that I'm inclined to plump for intensive body moisturisers to try and make up for the neglect I inflict on me poor oul' hide. And they don't get much more intensive than the Intensive Moisturising Body Treatment from Elizabeth Arden's 8 Hour stable. This is a white opaque cream that's pretty thick in texture and yes, there is a wee whiff of the distinctive love-it-or-hate-it aroma of the original cream about it. (Himself recognised it straight off: "Is that that smelly stuff you use on your lips?") Most importantly though, it really works - my skin felt instantly and softer and smoother, with an almost miraculous improvement in the state of my scaly elbows and flaky legs. (What can I say, I'm a real catch.) A little goes a very long way and it sinks into skin really quickly, which is frankly a bit surprising given how thick it is. There's not a hint of greasiness or stickiness, and it didn't irritate my small but wildly temperamental spots of exczema.
Advertised
And to think that up until December last year I wouldn't even touch this 8 Hour stuff!