 Wearing makeup has extra challenges for girls who wear glasses. Whether it's your foundation moving or googly eye syndrome, there are ways to combat the issues glasses pose.
I am a glasses-wearer and the struggle is real when it comes to makeup. Girls who wear glasses face extra challenges when it comes to wearing makeup. The main issues we come up against is that our eyes are hidden by the frames in front of our face. For some, your eyes might be slightly distorted and made look enlarged by your lenses. Finally, glasses move your makeup! They can lean on your nose and sometimes your cheeks - depending on the size of your frames and the size of your cheeks.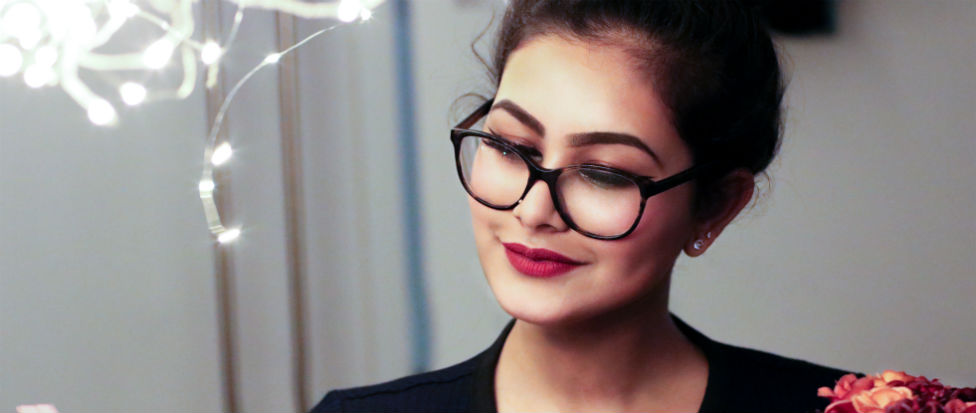 If you find your eyes disappear
The main thing I get asked to do as a makeup artist is to make the eyes stand out behind glasses. There are a few little eye makeup tricks that will give your eyes extra definition behind the frames. Firstly, you need to go for the classic 'lighter on the inside and darker at the edges' smokey eye. By keeping the eyeshadow light on the inner half of the lids you'll make your eyes appear wider apart and bigger. A matte, smokey shadow on the outer corners will give your eyes a winged out shape and extra definition. To really define your eyes and make them stand out, you need to use liner along the top lash line and under the bottom lash line.
Advertised
If your eyes look enlarged
To make your eyes appear more subtle, a matte eyeshadow smoked out from the lashline will look soft behind the lenses. These type of lenses magnify everything so avoid shimmery colours that show up the wrinkles on your eyelids. Instead of lining outline the bottom lash line, put the liner inside. It will still give you definition without making your eyes look bigger.
Makeup moving on your cheeks
If your glasses lean on your cheeks or the pads rest on your nose you will find you get patches in your makeup. It makes your foundation look uneven and you'll have red patches showing through. You need to get a long-wearing concealer. Certain pro-longwear concealers will dry down to an almost waterproof consistency. They don't budge throughout the day. Apply your foundation as usual and then use long-wearing concealer to the sides of your nose and tips of your cheekbones where your glasses touch off.