 The 2020 Christmas Beauty Gift Guide is here! Christmas shopping is one of my favourite things to do every year. My approach to gift giving is simple. I always choose items that I'd LOVE to receive myself. I've compiled a list of my top picks for the beauty lover in your life - but also with the best price possible. Whether it's the makeup maestro, the skincare junkie or the hair care hero or you're looking to treat yourself. I've found something for everyone that will suit any budget and make your Christmas shopping a breeze.
For the Secret Santa Giftee.
Whether it's for a Secret Santa, a best friend or a treat for yourself, these Nars sets are always well-received. The exclusive ornament packaging means it's perfect for adorning your vanity or even your tree if you wish. These sets come in a selection of shades but my personal favourite is the iconic 'Orgasm'. The Afterglow lip balm formula will leave your lips sumptuously hydrated and prepped for any mistletoe encounter. The Alabaster highlighter is the perfect shade to add a glow to the skin. My top tip is to pop this highlighter on the inner corners of the eyes and under the brow bone.
For the Self Care Lover.
These Origins sets are a go-to each year so I had to include one in the Christmas beauty gift guide. This set contains seven of the best selling products from the brands cult ranges. It is a great introduction to the brand and ideal for existing Origin fans. This set includes a foaming face wash, eye cream, a detoxifying mask, an overnight intensive hydrating mask, an oil-free gel moisturiser, a hydrating treatment lotion and spot treatment. It is also suitable for all skin types. A winner all round.
For the Haircare Buff. 
Getting hair extensions drove me to switch to sulfate-free shampoos, which has made a noticeable difference to my hair.  Not only is my hair much softer, but I am also getting more days out of my style between washes than ever before. The Alfaparf range is already quite reasonable for salon quality (average prices c.€15)  but the added value of these sets is incredible. The range has products to suit every hair type and is extension friendly. My favourites are Diamond (for shine) and Volume (for lift and adding body). These sets come in a leather-effect case which doubles as fantastic makeup storage. The Cristalli Liquidi hair oil from these sets has become a go-to product for me. I use this pre and post styling and it leaves my hair feeling super sleek and shiny. Beauty Features is based in Bray Co.Wicklow and the shipping is always really fast.
For the DIY Bombshell.
In recent months, there has been a massive buzz around this Revlon hair tool. Famed as being the closest thing to a salon blow dry at home, it definitely caught my interest. Salon visits haven't been possible for the vast majority of the year. This means that most of Ireland (myself included) have had to try to emulate the experts in order to manage our manes. This tool creates a volumised, sleek style - think 90's bombshell blowouts in minutes! It may take one or two tries to get the hang of it but I recommend following a YouTube tutorial to get the best effect. This coveted item can be purchased from Boots (both online and in store) but I've managed to find it for less on Amazon. Thank me later!
For the Glam Gal on the Go. 
Aimee Connolly's products have been a firm favourite of customers, celebrities and makeup artists and it's not hard to see why. This kit contains the Beauty Base Primer, the Lip Duo in 'Pink Pair' and the Limited Edition Full Face Edit Palette. The palette consists of a matte bronzer in medium, powder highlight in 'Rose Gold Glow' and blusher in 'Sunset Sheen'. It also includes a rose gold and matte brown eyeshadow as well as a pink tint for both cheeks and lips. This set was hard to track down and is already sold out on several websites. If this does sell out before you get the chance to pick one up, there is a wider range of options from Sculpted. The products are available from most major pharmacies as well as the Sculpted by Aimee Connolly website.
For the Vegan Goddess.
Advertised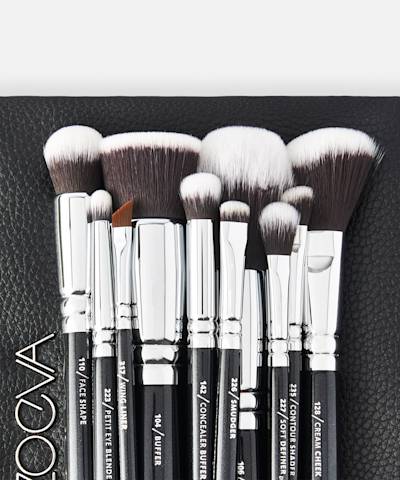 Zoeva brushes have always been a go-to brand for brushes. This bundle contain a selection of ten brushes and comes with a super chic faux-leather clutch. Vegan brushes are not only animal friendly but the synthetic bristles pick up the perfect amount of product. You have every brush you may need for creating a perfect festive look. The flat top foundation brush is something I cannot live without. The dense bristles effortlessly buff product into the skin and leave a flawless finish. Maybe pick one up for yourself while you're at it.
For the Glow-Getter.
South Korean based Glow Recipe are known for their fruit derived formulas which work to get your skin glowing. This duo features two of their best selling products Pineapple-C Bright Serum and the Banana Soufflé Moisture Cream. The serum has three different types of vitamin C, one of which is derived from pineapple juice.  This serum is brilliant at tackling dark spots, pigmentation and scarring. It's also packed with AHAs which gently exfoliate the skin. The moisturiser has a wonderful bouncy texture as the name may suggest. Utilising the magnesium and potassium found in bananas, it hydrates and soothes the skin.
For the Skincare Junkie.
This bundle from Skingredients contains the essential 'Core Four' products The Skin Nerd, Jennifer Rock, has created for a daily skincare regime. It consists of the Prebiotic Cleanse which cleans, exfoliates and hydrates your skin. It's fantastic for cleansing and removing makeup. The second product in the lineup is the pre-serum Skin Veg which brightens, soothes and hydrates the skin thanks to its pro collagen peptide infused formula. Thirdly, the Skin Protein, with vitamins A, C and E. It helps to smooth, brighten and tighten your skin. Lastly, we have the SPF 50 Skin Shield which is a hero product of mine. This broad spectrum mineral SPF has a lightweight formula with a slightly peachy tint and leaves the skin looking dewy and hydrated. It shields the skin from any sunlight and harmful blue light emitted from screens - a must-have for working from home. This set also contains a complimentary Cleanse Off Mit.
For the Person Who Has Everything.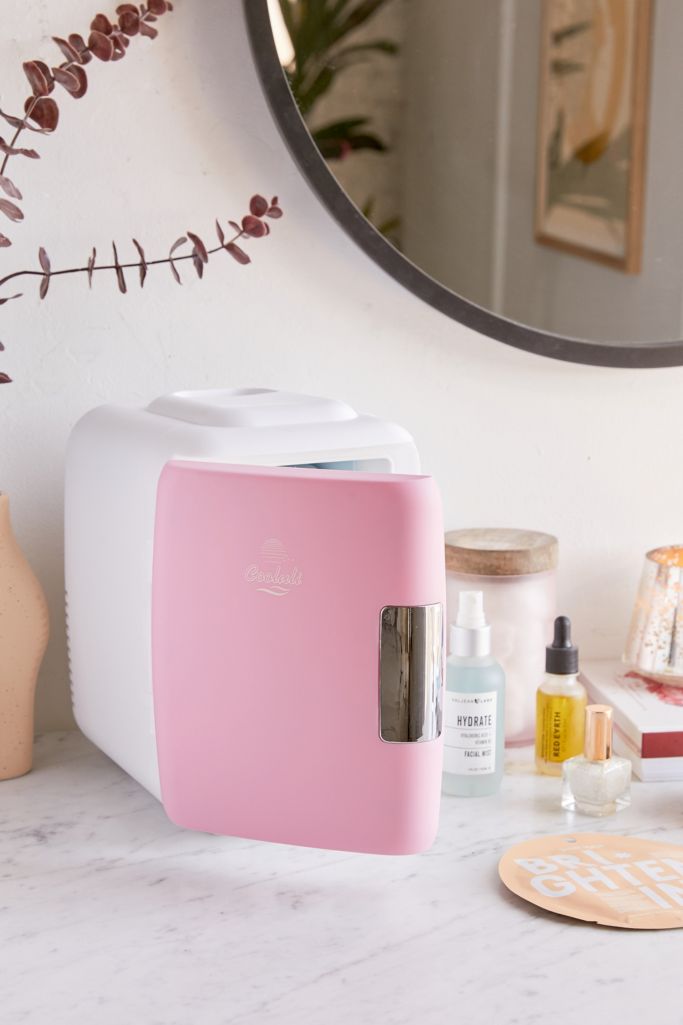 One of my favourite things to do when I'm on holidays is to store my makeup and skincare in the fridge, the cooling sensation of applying the chilled products after being out in the sun (wearing SPF of course) is simply divine. Being able to recreate that at home, minus the sunshine is a definite luxury. Using a skincare fridge not only extends the shelf life of your products but also can help to reduce inflammation. I particularly love using a chilled eye-cream in the morning to instantly de-puff and revive tired eyes, as well as an icy setting spray, spritzed over freshly applied makeup. The Cooluli comes in three colours, white, pink and black (I have the pink one myself) and looks uber chic on display. This is my favourite item from the Christmas 2020 beauty gift guide.
For the Luxe Lover.
When compiling the Christmas beauty gift guide, the first brand that came to mind was Charlotte Tilbury. The brand is known for its signature set of looks from the Bella Sofia to the Sophisticate, there's a look to suit everyone depending on your style. The products used to create these looks have been collated into bundles which saves you having to purchase each product separately. Charlotte Tilbury is definitely a luxe brand, its rose gold glam aesthetic and supermodel skin finishes are simply lust-worthy. These looks are available year round but currently, Brown Thomas and Arnotts are offering a 3-tiered gift with purchase. Should you decide to treat yourself or someone you love to this glam gift, you will also receive a complimentary Charlotte Darling Palette, a Refresh Rose Collagen Lip Bath Gloss & a Brightening Youth Glow (while stocks last).
Want more stories like this?
5 Beauty Calendars to grab before they sell out 
Advertised
Skincare Fact or Fiction: Is washing you face in the shower bad for your skin?