 The tree's been delivered, my wreath is on the door, I've hung a few little decorations on the mirror in the hall and I'm planning to break out the fairy lights this evening.
Christmas is on like Donkey Kong as far as I'm concerned so without further ado, let's get cracking on the first of the Beaut.ie Christmas nail art tutorials!
EASIEST SNOWMAN NAILS EVER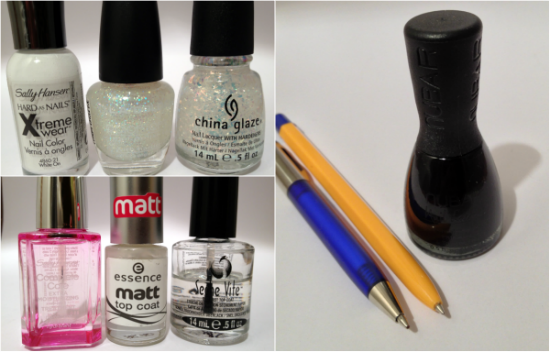 You will need:     (italics denote the products I used)
Base coat              Sally Hansen Complete Care 4-in-1 Treatment
White polish          Sally Hansen Xtreme Wear White On
Iridescent polish    China Glaze Luxe and Lush; L.A. Colors Sassy Sparkle
Matte top coat       Essence Matt Top Coat
Black polish           Nubar Noir
Dotting tool           Old ballpoint pens, one with a large and one with a medium nib
Orange polish        OPI In My Back Pocket
Detailing tool        Cocktail stick
Advertised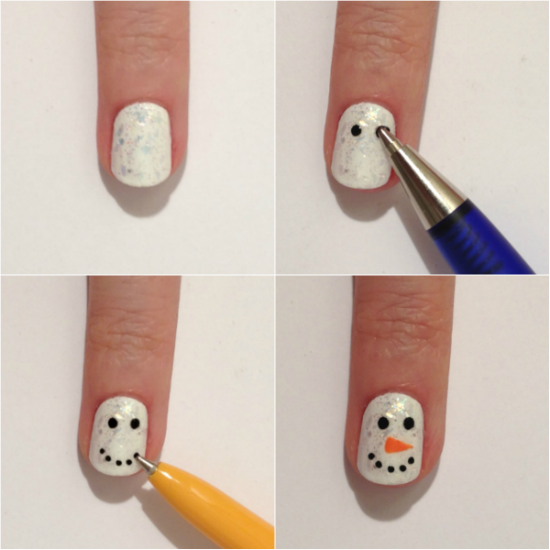 1. Prep nails, apply base coat, apply a coat of white polish.
2. Apply your iridescent glitter polish of choice; Rimmel Rock Your Colour glitter topcoats, Barry M Pink Iridescent, Essence Nail Art Special Effect Toppers (or their glitter topcoat) would all be good budget bets if you don't already have one in your arsenal. You may like to apply 2 coats for best effect.
3. Apply matte top coat to give the polish a subtle, snow-like sparkle. If you prefer a more blinging effect, you can skip this step and seal the whole thing with a quick dry top coat like Seche Vite when you're done.
4. Decant a small amount of black polish onto a non-porous surface (tinfoil, old plates, and the back of glossy magazines are ideal.) Dip the large end of your dotting tool or the nib of the large ballpoint pen into the black polish and dot onto the nail about ¼ way day down its length to create the snowman's eyes.
5. Dip the small end of the dotting tool/the nib of the small ballpoint pen into the black polish and add 4 or 5 dots in a semicircle about ¾ of the way down the length of the nail to create the snowman's mouth.
6. Add a triangle of orange polish in the centre of the nail to form his carrot-y nose (I just daubed it on with the orange polish brush), and use a detailing tool (or, y'know, a cocktail stick) to carefully outline it in black and add segments.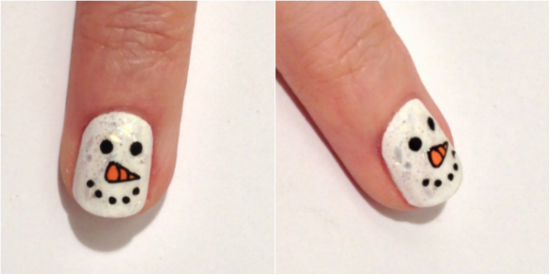 Voilà - snowman nails!