 Even though just thinking the word "Abracadabra" makes me sing "Abra Abra ka bebra. You make me wanna reach out and stab ya", only Irish people will understand the joke (and particularly those who used to frequent the Westmoreland St branch at two in the morning).  So let's get on with taking a gander at Abracadabra, L'Occitane's Christmas collection.
They've brought us what has to be one of the THE most gorgeous Christmas offerings this season.
I'm a huge L'Occitane fan and seeing their Christmas guide made me actually giddy with  pleasure.  When I saw the Christmas collection bottles and jars it was all  Ooooh and an Aaaah.  Marvelous Flowers and Magical Leaves is the theme this year and it brings us lots of gorgeous floral scented goodies, but if that doesn't float your boat turn to the the Leaves collections for that sharper Verbena based ooomph.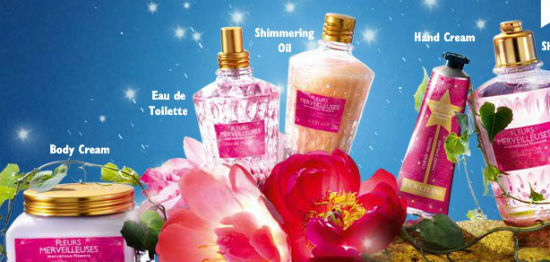 This collection is not cheap - well nothing in L'Occitane is cheap (bringing your Irish prices into line would be a good starting point!) but it screams quality.  And if you're looking for cheap with this brand anyway, you're missing the point.  It's a luxury brand, the ingredients are superb and their commitment to quality and sustainability is laudable.
Much copied, half of the Marks and Spencer Christmas kits will be modeled on these babies.  But they won't be ANYTHING like as nice.
Advertised
Now gird your loins because you're about to see some of my ahem "photography" skills.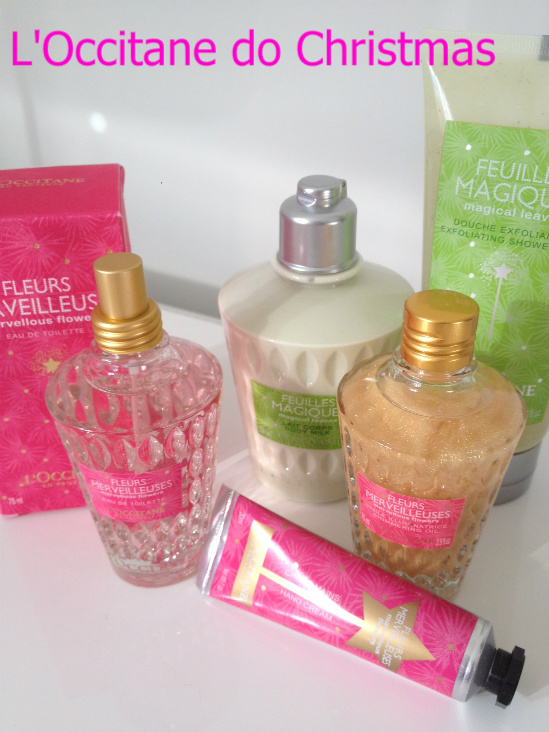 The bottles are designed using faceted glass, giving them that vintage look that looks absolutely fantastic on a modern dressing table. The Perfume (€41.95) is an unashamedly feminine rose based scent with notes of grapefruit and musk.  To be honest this is a great scent that many women will love.
Use the Shimmering Oil - also in one of those fab faceted bottles - (€29.95) on your arms, legs, collarbones and even in your hair to make you more shimmering and delectable than the Christmas Fairy.
And of course my favourite - the Magical Leaves collection.  Now don't get me wrong, I love a bit of flowery gorgeousness, but in the shower and in the body cream stakes I prefer freshness and zing.  The exfoliating shower gel (24.50) is just YUM - finely ground hazelnut shells gently scrub off dead skin; while the Body Milk (€19.95) comes in a faceted  bottle and is fresh and zesty.
Advertised
And of course you can also round up with a luxury stocking filler of the Award Winning (winner of the Hand Cream category in the 2012 Beaut.ie Awards) with some special Christmas Shea Butter Hand Cream.(€10.50).
There's something for everyone here.  From your granny to your vintage chick sister, everyone love a L'Occitane present.