 We love multi-tasking skincare and the Académie Radiance Aqua Balm has not one, not two, but three glorious skin benefits.
If you've been partying hard, neglecting your skin or you just want to look fabulous for an occasion, this brightening cream will help. This is a very loveable cream. Everything about it is lush, starting from the smell to the texture, to the luminous effect it leaves on your skin.
Académie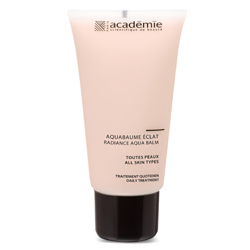 Académie Radiance Aqua Balm €36
The Académie Radiance Aqua Balm smells good enough to eat and when my cream smells good I enjoy putting it on so much more. If I enjoy putting it on I'm far more likely to use it often and see the difference it makes to my skin. The apricot scent (with thanks to the Apricot Kernal extract) is unmistakable when you open the tube. Apricot kernal extract is a wonderful little brightening and hydrating ingredient. It will help your skin to look more awake immediately.
Advertised
So what does this little tube of radiance do for your skin? Okay well, I said it has three benefits and it does. Firstly, the obvious one, it is hydrating and comforting for your skin. The second thing it does is provide a radiant natural glow on your skin. Finally, it works as a brilliant makeup primer.
It's definitely a day time product rather than a night cream. I have been using it as a moisturiser/primer combo - cutting out the need for two products. The texture is a cross between a balm and a rich cream. That could ring alarm bells for oily skin but actually, it leaves a soft almost powdery texture on your skin after about a minute on the skin. It's different from other strobing products. It brightens your skin and gives it a radiant glow as opposed to a luminous creamy finish like MAC Strobe Cream or Charlotte Tilbury Wonderglow.
This radiance balm works for all skin types. It will smooth over your skin and even out your skintone - that's a pretty perfect pre-makeup step.
How do you prime your skin for makeup?