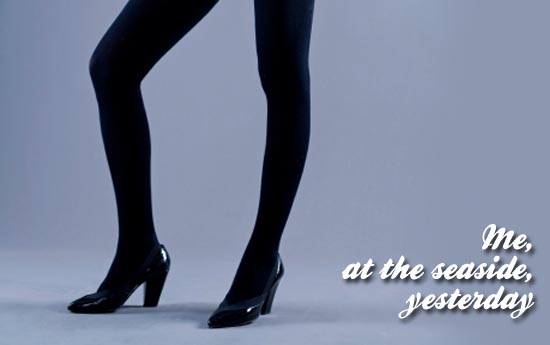 Beef to the heel, me, and there's no other way to describe it. What goes on from the hips down has been a trial from day one (I win the occasional battle but I'm definitely losing the war) and my legs are definitely not my strongest point.  As a result black opaques are not just my friend - they're my bleedin' saving grace and then some.
That's why, every year when the spring comes around, I start to stockpile. But I don't start to stockpile the things other people bag when they start to think of summer and its associated holidays. Like flipflops, mix and match bikinis, nice stripey things from Zara* and jaunty straw beach bags.  No. Definitely not. Eh, you're more likely to get me into one of Nigella's burkinis, frankly.
No, what I start to buy are black opaques. Shops stop stocking them about April and you can't get 'em again until September, so if you don't want to go around in holey, crotchless wonders for months on end, it's just a necessity.
M&S is my usual port of call for tights and this year their 60 and 100 deniers were back on quality track. They'd been slipping for a few years, pushing me off to Wolford and other brands, but spending €40 on a pair of shagging tights which you can't tumble dry is really not something I'm that interested in quite frankly, so I was very happy that Marks and his Spencer had got it back together for €8 or so a pair. Even Penneys pulled it out of the bag this season too with some pretty decent 100 deniers for tiny money that I'm definitely buying a few more pairs of.
Advertised
See, it has to be really, really, really, super oven hot to get me out of black tights. Cos no one wants to see what goes on under them - honest you don't. Honest. And I know I'm not alone. There's a whole black tights sisterhood out there - we're smiling at each other covertly at picnics in the park on warm days as we sit cross-legged, demurely hiding our comfortable calves and pasty dimpled knees beneath darkened slimming nylon.
Hands up Beaut.ies - who's with me? And shall we hit up Penneys this weekend on a mission of great opaque importance?
*Ok, am I eyeing up a few nice stripey things from Zara for holidays. THERE I SAID IT