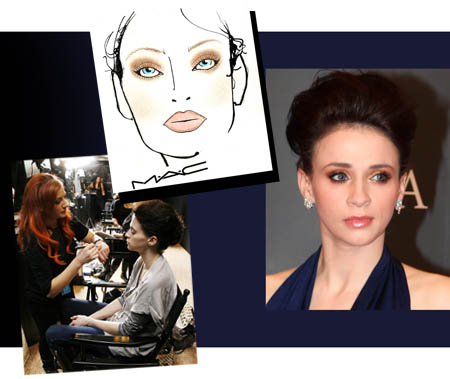 I think we're in agreement that the gunas at the IFTAs were, how shall we say, mostly on the underwhelming side. So to assuage the lack of dress-related eye candy, we've got an exclusive look into how MAC's makeup artists made up some of Ireland's stars of stage and screen. Yup, just for us Beaut.ies!
The artistic team set up in a specially created MAC suite and worked on 'slebs like Corrie's Vicky Binns (Molly in Corrie), Amanda Byram and Sile Ni Bhraonain. They also performed their magic on Raw actress Charlene McKenna, Atonement star Saoirse Ronan and Nip/Tuck and Mistress' Orla Brady.
We've got their face charts, what was used, as well as before and after shots. Phew! First up is Charlene McKenna, above, arguably one of the best turned-out on the night, and you can see her at the prep stage, as well as on the red carpet. Check after the cut for the products that were used on the actress, as well as two more IFTA red carpet looks.
Charlene's was created using the following:
Face: NW15 Studio Sculpt, NW20 Moisture cover Concealer, Mineralize Powder
Eyes: Soft Brown, eyeshadow and Amber Lights on the lid, Cork eyeshadow in socket, Smoulder Eye Pencil, Blacktrack Fluidline
Lips: Prrr Lipglass and Lip Pencil in Subculture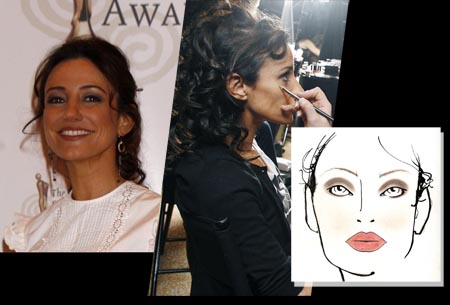 It's incredibly hard to believe that Orla Brady, above, is 47, but her IMDB profile says it's so, and who am I to  disagree? MAC made her even more gorgeous with the following:
Advertised
Face: Face and Body Foundation
Eyes: Brule eyeshadow on lid, Satin Taupe and Copperplate eyeshadow on the crease of the eye, plus Blacktrack Fluidline
Cheeks: Harmony and Dame Powder Blush on cheeks
Lips: Cremesheen Lipstick in Ravishing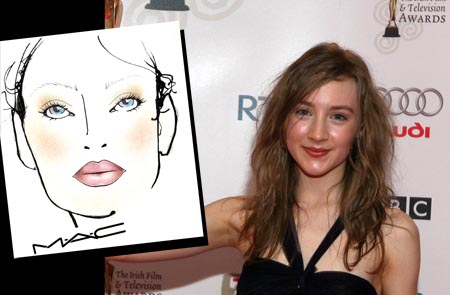 Lastly  - but certainly not least - we come to Saoirse Ronan, above. MAC gave her a look suitable for her 14 year old self - she looks glowy but not overdone. What did she wear?
Face: Face and Body Foundation (N1), NW15 Studio Sculpt Concealer, Medium Blot Powder
Eyes: Vex and Soft Brown Eyeshadow, Fibre Rich Mascara in Black
Cheeks: Peechykeen and Silver Dusk
Lips: Fabby Lipstick and Prr Lipglass.
What do you think of the looks? Leave us a comment and let us know!
Advertised