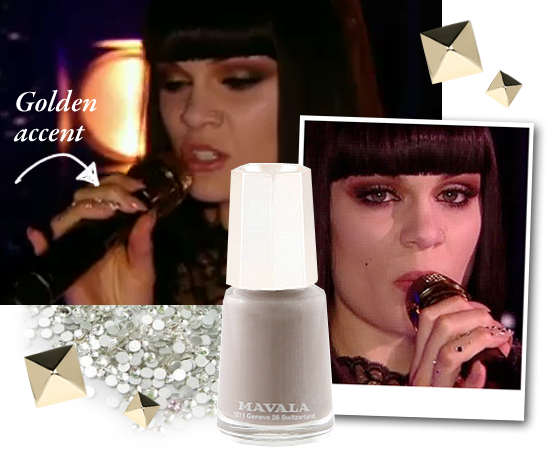 Whatever you reckon to her music or her perma-Cleopatra hair, there's no denying that Jessie J knows good nails (and isn't afraid to wear them.) I'd like to enter into evidence the awesome steampunk numbers she sported for the Nobody's Perfect video, y'honour, and also make the case that Jessie J doesn't just go all-out with her nails when shooting a music video. That's plainly evidenced by the myriad of amazing manicures that she regularly wears to gigs/awards ceremonies/random nights out - and The X Factor.
Her performance on the results show a few weeks ago took the statement nail to a whole new level, as the scattered crystal rhinestones and silver and gold studs on one of her nude-painted nails continued down her finger, hand and arm. It looked fantastic, if a smidge OTT for wear offstage - here's a dead easy way to emulate the look without sticking crystals all over your person.
Advertised
Paint all nails in a neutral colour that flatters your skintone; I used Mavala Rose Dust.
Use a tweezers or a wooden manicure stick with a dot of topcoat on it to pick up each embellishment (find them at good haberdashers, craft stores, and pharmacies/department stores with a decent nails sections.) Dip it in topcoat and immediately press it onto the nail (alternatively, you could place a small amount of topcoat on the nail itself and place the embellishment on top.)
You can encrust the whole nail in bling if you so desire; I decided to go for something very simple and just place a crescent mix of studs, pearls, and crystals (the latter are by Andrea Fulerton, for anyone with access to a Superdrug)
Seal the deal with a layer of, you guessed it, topcoat! Apply carefully to prevent air bubbles; I used Seche Vite.