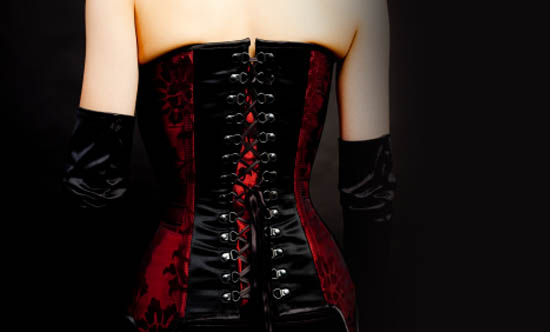 Aisling had us in stitches last week about her rank Spanx purchases at Barks and Parks (Testy Broader's favourite shop, of course) but I've been of the firm opinion for a while that the only shapewear that works is the type that you have to be more-or-less winched into and then buckled closed.  Corsets, ladies. Corsets. Stretchy fabric on its own can't combat bellies, back fat and cinch a waist, and no matter how much I've spent on Spanx and its ilk in the past, I've always been disappointed with the results.
Lycra-based shapewear like this is good if you're quite slim anyway and just need some bulges smoothed for a sleek result under clothes. But if you need more than that, forget it. Heavy duty options are required and last time I needed to disappear a couple of inches to make a dress fit nicely, I went into Brown Thomas' lingerie department and asked about corsets.
At that stage, I got a Wacoal longline affair that's got light non-steel boning, no lacing and hooks and eyes all the way up the front and fits from below the bust right to the top of my thighs. It's about a half-strength corset in the grand scheme of things but it immediately did the job I wanted that Spanx have never achieved, so it was €70 well spent.
Not the comfiest garment, no. However, now that I know that this is the way forward when it comes to Stuff Wot Works, I'll never hand over cash for vile bodysuits again. And I am, admittedly, a novice when it comes to this stuff - but I knew who to ask for more Beaut.ie-style investigative information.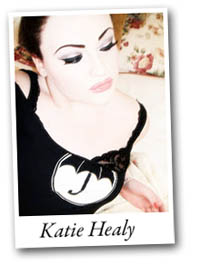 Enter Katie Healy, author of What Katie Did. This is a girl who knows a corset in and out and in answer to my plea which presumed that "buying corsets for sexy time reasons and boring under clothes reasons are a bit different so it's the boring under clothes reasons I'm (mostly) looking at," I was dead wrong.
Not in Katie's world, girls. She swiftly declared, "I don't see much difference in a corset you buy for sexy reasons and a corset to wear discreetly to give you an incredible shape. It's all about maximising your femininity and I get as much as a kick from wearing one underclothes than I do for ... well, you know what I mean!"
Point duly noted. And this is the perfect time of year to get to grips with them too. "I always wear corsets during the party season under my dresses or as tops when I wear a skirt," she says. "Wearing them gives me a confidence boost and a little wiggle to my walk.   Wearing corsets is fun and is a choice, some people say they are oppressive. I don't see it like that at all: I think Spanx are more oppressive and depressing - at least when you wear a corset you still look and feel pretty and not like you have had a full body cast!"
According to Katie, "if you are serious about achieving the ultimate hour glass figure you have to be prepared to put in a little research and spend a little bit of money. Corsetry is an art and like most pieces of art you need to pay generously for a piece." Price helps ensure quality too. "Wearing a well made corset you will not run the risk of impaling yourself on steel boning or your laces snapping and cutting you while lacing up," she points out.
First things first, Katie stresses that before you buy a corset, it's crucial that you've got to know your measurements first.  "Measure your natural waist size - the narrowest bit that indents most above the hip and subtract four inches. If you are a natural 30 inch waist when buying a corset you should be looking for a 26 inch corset."
For a full length corset, it's vital you have your correct bra cup and back size, she stresses. "I would advise a quick trip to a bra fitters before indulging in a corset as the wrong back size and cup size could leave you with your boobs under your chin or alternatively flattened beyond belief." Yikes!
Advertised
So what should you buy for particular issues? Katie's got the low-down for us here too.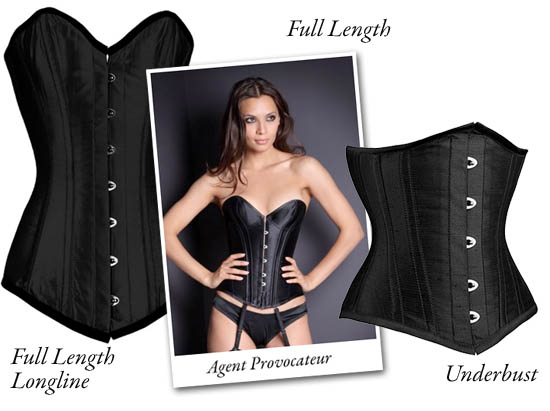 DAY TIME
For day time shape wear I prefer under busts, they are less restrictive and let your upper body move with a little more ease. Under busts will not make your boobs look as ample as a full length so if you want to channel your inner bust-boosting Christina Hendricks, an under bust is not the shapewear for you. Retro and Miss Fantasia in Dublin sell cute under busts that can be worn under or over clothes.  Corsetry is always in fashion and under busts can look no different to some of the large belts out there so don't be afraid to experiment with them
TUMMY ISSUES
For a girl with a bit of a tummy I would advise a full length long line corset to avoid any flabby bits jutting out. Long lined corsets will flatten your stomach and back while supporting and boosting your breasts
GENERAL SILHOUETTE SLEEKING
For a someone with not as much weight to carry a normal full length corset will do the exact same job as a long line. Both give you perfect proportion and really makes you feel sexy and refined
And that's not all, either. She's also given us some tips for lacing in and comfort while wearing a corset.
FITTING
Open the corset and stretch out the laces in the back
Wrap the corset around you and fasten the busk at the front
Standing sideways in front of a mirror so you can see your hands, pull on the  looped laces but not too tight.
Wiggle and adjust yourself. Reach your arms above your head and adjust the portioning of the corset. If you are wearing a full length corset this is the time for you to start adjusting your breasts in to the desired position too
Pull your laces again aiming for even lace lengths towards the middle and working them back towards the waist
TIGHTENING
Pull the laces from the bottom to the center, evening the out and pulling them from the top to the center
Keep the two rear eyelet panels evenly spaced from the top to bottom to avoid a huge gap at the waist
Keep tightening this time from top to bottom, bottom to top
When you feel comfortable and cinched in enough take your laces and tie into a bow at your back
COMFORT
After the fabric of the corset has warmed up and moulded to your body (half an hour after first putting it on) you can try lacing it slightly tighter if you wish as the fabric will have more give
The more you wear the corset, the easier they become to put on and the more you can reduce off your waist.
Once you can close your corset fully at the back, it is time to start the process all over again by buying the next size down
Always remember to pop your shoes on before you lace in to your corset, little things like bending become increasingly difficult once laced in
Also sit in the highest chair you can, corsets do not give way to slouching!
Advertised
BUYING ONLINE
Katie's got some personal recommendations for brands and eBay sellers she's had great experiences with:
Agent Provocateur: they sell some incredible and luxurious corsets, like any corset these can be worn  under or over your clothes but as the name suggests, these little numbers are perfect for seducing. They are very expensive but made from top quality materials.
Fairy Goth Mother:  Sells stunning corsets and everything in between. I've bought a few pieces from them and can assure you of the quality and durability of their products.
Velda Lauder: An absolute legend in the corset world. Her corsets will set you back anything from €150-€400 but will give you the best shape you can imagine.
Corset Junction Ltd: If you want a good shape and do not want to spend over €50 post and packing included look up their eBay store. I have bought from them and they are a pleasure to deal with. The fit and cut is very good quality for the price you pay.
Corset Boulevard Ltd: again another eBay store. I really like the cut of their under busts. Mine is very comfy and was very affordable.
Get Beaut.ie Delivered
Stay updated with Beaut.ie newsletters full of the latest happenings at Beaut.ie as well as great offers and things we think you might find interesting .