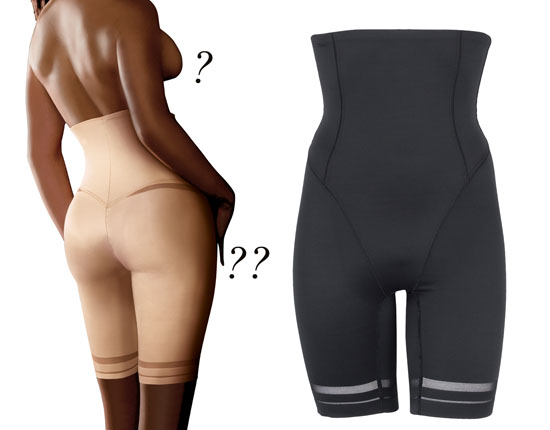 We've had Spanx, we've had caffeine-infused tights, we've had, uhum, 'sexy' Spanx - basically we've had more shapewear than we can shake a (fat) stick at these last few years, so the fact that M&S have gotten on the Spanx/Caffeine bandwagon comes as absolutely no surprise.
Launching this month is their Firm Control Anti-Cellulite Waist and Thigh Cincher, €40. In sizes 10-to-22, you can get black and nude versions of these caffeine, vitamin e and aloe vera-infused tummy- and thigh-wranglers. Promising to  "smooth, slim and shape and help reduce the appearance of cellulite in just 28 days," you'll get 100 washes out of them, say the company.
Here's the science: "the ingredients are woven into the fabric of the garment and held in place by millions of micro–bubbles then released and absorbed into your skin as you move. When the caffeine is absorbed, this increases the metabolic rate which in turn burns fat. As all the ingredients are embedded into the fabric, the cellulite busting qualities remain in the cincher even after washing."
Advertised
So, here's the gen. You pay forty nicker for a pair of circulation-inhibitors you can wear for around two and a half months (don't even think about wearing these twice without washing) before they're useful only as a foundation garment to squash lumps and bumps.
I assume - and I hope - the wonky Photoshop boob job and crazy hand above are an optional, and not integral part of purchase. I'm quite fond of my own, three-dimensional right paw, personally.
Novelty image editing aside, I don't really believe that anything can effectively battle cellulite except for a lot of massage and drainage, much as I'd like to take the lazy-lump way out. What about you? Have you tried anything similar, and how did you find 'em?