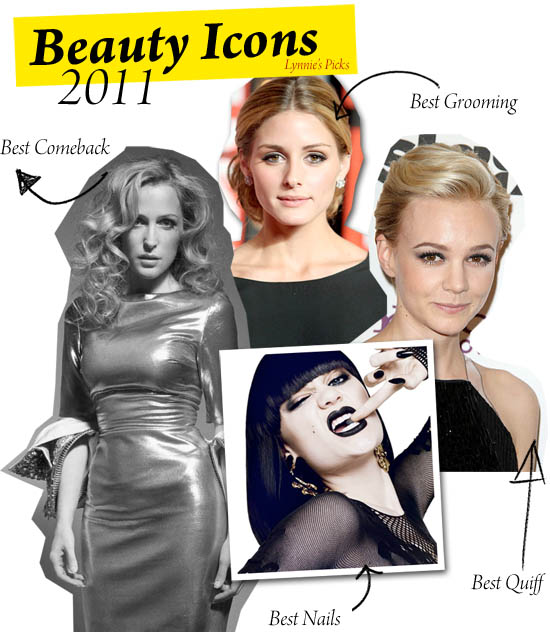 There was much coughing and spluttering and choking on my tea when I read the results of a recent Superdrug poll which declared Kate Middleton to be the top beauty icon of 2011. Yeah, she's got lovely swishy hair an' all, but come on people! Surely I can't be the only one who can't get past all those heavy-handed kohl rimmed eyes and wish she'd try something other than peach blusher and matching gloss?
Anyway, when I eventually recovered from the tea chokage, I got to thinking about who'd have made my list. Jessie J would definitely have been there (best nails), as would Olivia Palermo (best glossy groomed chic), Carey Mulligan (best quiff on The Graham Norton Show; best subtle smokey eye and flawless skin combo at 15th Annual Hollywood Film Awards Gala), and I'd have snuck Gillian Anderson (best comeback/best proper grown-up lady), in there towards the end of the year, too.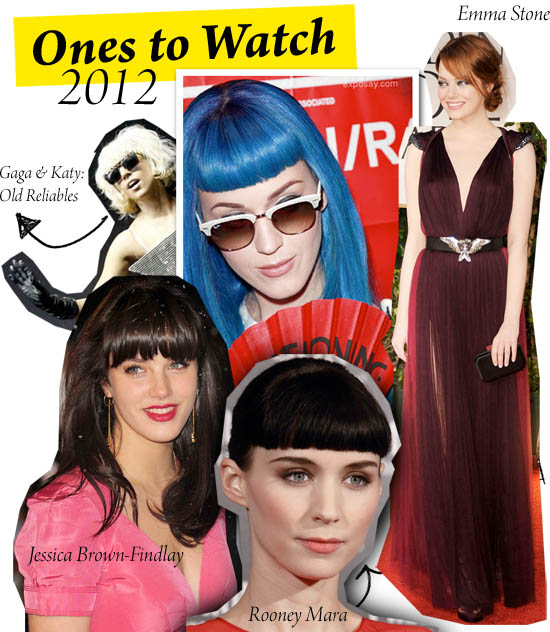 We're keeping an eye on Downton's Lady Sibyl (or as she's better know, Jessica Brown-Findlay), The Girl With the Dragon Tattoo's Rooney Mara and face of Revlon's Lip Butters, Emma Stone
Advertised
For 2012, no doubt Lady GaGa will put in another strong performance in the 'best overall bonkers' category and I imagine that Katy Perry will put up a stiff fight to hold on to her 'most chameleonic hair' title (I read that she's already dyed it bright blue.)
Whose look did you rate in 2011, and who do you reckon will be worth keeping an eye on in 2012?