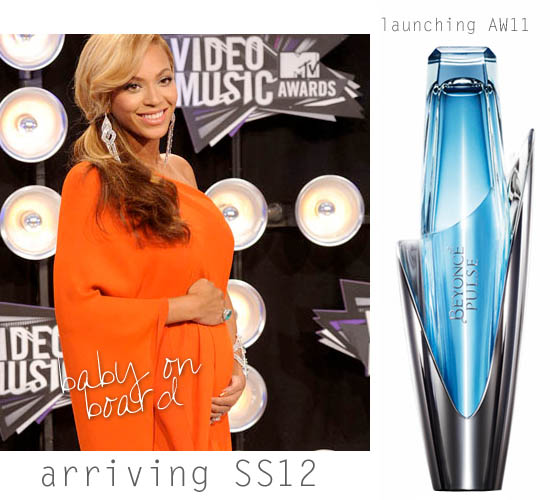 Can't wait for a peek at Beyonce's new arrival? Well, for one of 'em at least you won't have to: her latest scent, Pulse, from €25.95, will arrive on counters in September. We'll have to wait a few months more to check out the fruit of her and Jay Z's loins but continuing the auld pregnancy and childbirth theme, Pulse looks a lot like it might be the love child of Thierry Mugler's Angel and Bey herself, being all tall and Glamazon-alike. And em, blue.
Spritz-like, what's the scent? It's big, it's splashy and it's going to appeal to you if you went for Heat and Heat Rush, her two perfume predecessors. Note-wise, Pulse is a heady prospect which Coty is billing as a citrus floral gourmand. Anchored by orchids, there's pear blossom, a Blue Curacao accord if you don't mind, plus frosted Bergamot, bluebird orchid, peony midnight blooming jasmine, plus base notes of vanilla, musk and precious woods.
Psst: check out what happened when Coty put a pile of beauty journos into a room and got them to blind smell (and taste!) Pulse - it was fun, and some of us might have asked for a second cocktail too ...
Advertised
Beyonce pic credit: popcrush.com