 There are certain times of year that prompt nail art explosions, and we're racing headlong towards one of them at the minute. Anyone who doubts that Halloween is A Serious Business in the nail art community should take a goo at the parade of mummies, bloodshot eyeballs, pumpkins, ghouls, skulls, bones, vampire fangs, and fingertip Frankensteins that have passed through my Twitter feed and blog reader over the last week.
For anyone not into decorating their nails Gangnam freehand style, Broadway have come up trumps with a limited edition Halloween-themed range of imPress stick-ons for an easy, near-instant nail art fix.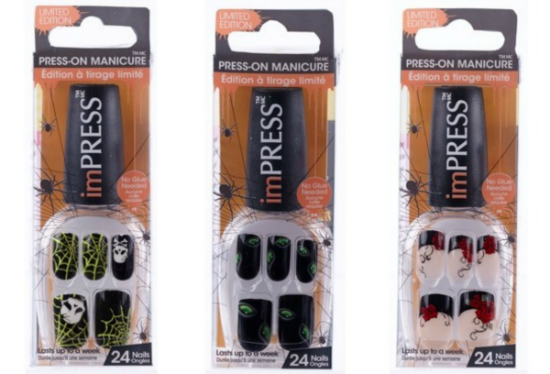 There are several designs of varying creepiness available with names like Hot Blooded, Supernatural, and After Midnight (L-R above) and just like the non-Halloween kits each one contains 24 press-on nails of varying sizes with pre-applied adhesive tabs, a prep pad, and mini nail file.
I noticed that the nails themselves are longer and wider than those in the standard imPress kits which is good news for anyone with larger nail beds and it's not necessarily bad news for the petite of finger either: my nails are quite narrow and I'd no problems finding a selection of stick-ons that fit them in the pack.
The set I received to try out was Total Witch, which in a neat quirk of fate was actually my favourite of the styles. It's essentially a longer length reverse French style, with nude coloured nails tipped in black and featuring black cobweb detailing; additionally some nails have a silver glitter shadow at the tip while others have subtle silver, well, spider detailing.
Advertised
Eek... Speeeeiiiiders!
Like a total trooper, I felt the fear and popped them on anyway. Here they are in (on?) the flesh: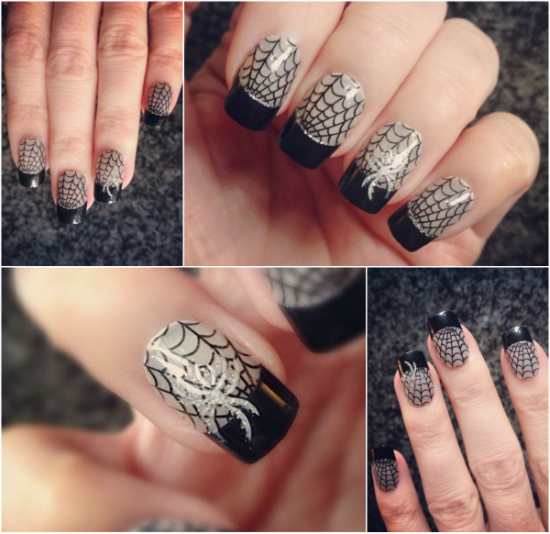 Those not troubled by arachnophobia could stick on a little rhinestone to fatten up the spiders bodies a bit; personally I think they're quite obvious enough as is, thankyouverymuch.
These nail are hardly something you'd pop on everyday, but I think that for adding a last minute finishing touch to a Halloween costume (or getting into the spirit, ho ho, of things without actually dressing up) with a minimum of effort and faffing about they're pretty much perfect.
Advertised
Morticia Adams, eat your heart out.
Broadway imPRESS nails are priced from €8. Find the Halloween versions at usual stockists like Dunnes, Penneys, Sam McCauleys, Shaws and independent pharmacies; call (01) 450 7771 for further stockist information.