 The Burren Perfumery has been on our radar for quite some time now, but this launch may be their best yet
Body lotion fans you will be most happy to hear of the newest launch from The Burren Perfumery. We're all about supporting Irish companies, which is one of the reasons why we love the brand. But what we love love is that every product is made with natural products straight from our own lovely landscape.
If you're unfamiliar with the brand, know now that it's been around since 1972. Its current owner, perfumer Sadie Chowen, took over in 2001, developing it into a luxury, but still wholesome cosmetics company. With her husband Ralph, Sadie expanded its perfume range and added soaps, candles, herbal teas and essential oils to the mix. All of the perfumes, body lotions and soaps are blended by Sadie and her team in Clare and made from essential oils and organic ingredients, so you can be sure the quality of the ingredients are pure and fresh.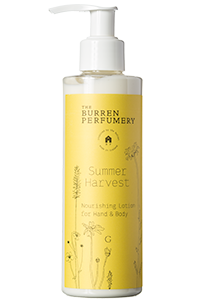 Advertised
With the help of a staff of 30, the products are created on site by hand, incorporating six scent families: Lost Garden, Grassland, Woodland, Herb Garden Atlantic and Irish Limestone.
Summer Harvest is the scent of the summer 17, and for good reason; it is absolutely divine. Look at that gorgeous packaging, too!
I've been slathering the best-selling lotion all over every day to remind myself that yes, it is still summer. It will remind me of the summer evenings spent in Dublin, and I'll be taking it and the Eau de Parfum (€42) with me on my holibobs abroad.