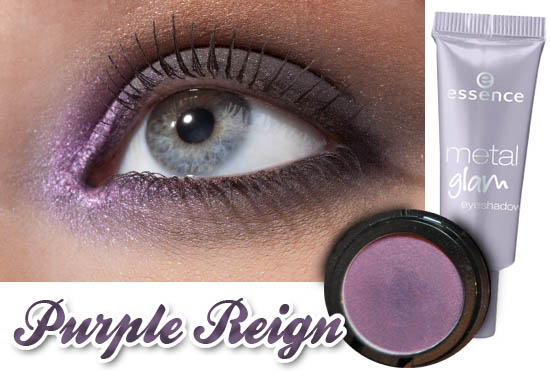 Back in August, I lamented the fact I hadn't yet found the perfect purple eyeshadow and in the intervening months I've been working to rectify that situation. Yes, it has been an urgent task of the most extreme importance.
When kept on the bright, blue-toned side of purple, this is a shade that really flatters hazel, green and brown eyes.  Yer wan above there has blue/green eyes and it's popping on her too - so hey, give it a lash.
I'm not so mad on purples with a lot of brown in them because they make me look tired (though there are a few included here for variety and contrast), and while it's a brilliant shade for night time eyes, listen up. Purple is also HUGE news for spring summer 2011.
Lancome, Guerlain, Clarins and Estee Lauder have all used the shade in seasonal collections so if you like to be on-trend and you've never really played with purple, then here are a few to get handy with over Christmas.
These pictures are atrocious, I apologise. I'm a bit up the walls this week and had to snap them very quickly before work this morning, so the lighting was bad, there was no chance to do swatches and you get the general harried drift. Some are not available now as they were limited-editions, so my aim here is to provide inspiration as well as some product recommendations.
SHADOW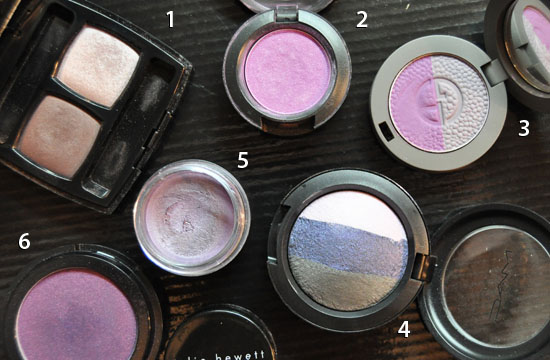 Advertised
This is sneaking in even though it's definitely more aubergine than purple: Chanel's Ombre Contraste Duos launched earlier this year and this one is Misty. I love it - and you can find out why here
Mac eyeshadow in Creme de Violet. This is described as a frost but it's very un-shiny thanks be to jaysis. Nice as a highlight on a dark smokey eye, this is a permanent collection item
One of Giorgio Armani's Maestro shadow duos, this one is Manta Ray and was a 2009 launch.  A cool lilac and a bright violet are matte, which is nice, but the pigmentation in these is sheer-to-medium at best. Limited edition too, as far as I am aware
One of Mac's Mineralize trios from the In The Groove collection - so y'know, not gettable anymoreable. The Body Shop has some really nice baked shadows that could offer a similar look though
This is a Julie Hewitt Hue creme shadow in Violette that I bought online from Mise Beauty. Subtle on its own, this works best for me as base for purple shadow
Love this one. You can't really get a sense of how unusual the shade is or the finish here but this is Make Up Store shadow in Flamenco. You get a huge pan and the finish is metallicy and sheeny. Lovely
PIGMENT/GLITTER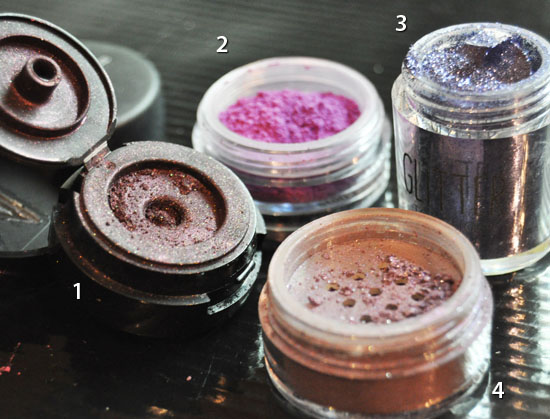 Another Make Up Store product, this is Eyedust pigment in Perfect. This brand does a huge selection of loose pigments and they're really well packaged. It is a bit like getting into Fort Knox to get at the powder, but at least it's not going all over your makeup bag, eh? On the skin this is a deep blacky-purple with lots of shimmer particles. Fabulous for night.
A matte loose mineral shadow from Bare Minerals, Angel is slightly chalky to use but is a great bright shade
I'll be about a thousand years getting through this pot of purple glitter from Top Shop. The shade is Lagoon and it's nice patted on the ball of the eye as a finishing touch
Irish brand Fuchsia has a big range of mineral shadow and pigment shades; this is Violet Storm and is a loose powder with some sparkles and iridescence
LINER/CREAM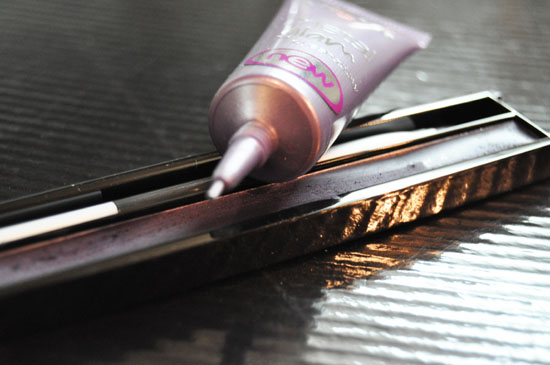 On the top, Essence Metal Glam cream shadow is quite pale when blended out but holds powder well so can be used as a base to hold pigment in place or to add some intensity to a powder colour. It's resting on an Urban Decay Ink for Eyes liner which you can use as intended, or smudge out over the whole lid.
Advertised
So, that's some of the purple bits and bobs I have cluttering up my bathroom, but what about you? Got any faves you'd like to recommend? Leave us a comment and lets get gassin'.