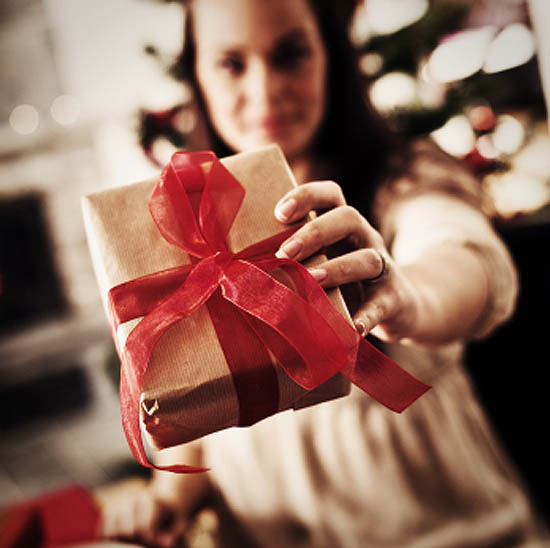 There's no doubt that men can be difficult to buy for:  my friend Mark, for example, is an absolute nightmare. I officially gave up the year I spent months tracking down an obscure out-of-print album that he loved, just to be told when I handed it over that he already had a copy somewhere on an old cassette. The problem with Mark is that he just doesn't care about 'stuff'. The problem with my fella is that he cares about it way too much.
Every year in early November I am presented with a long, long list of 'stuff' that he'd quite like for Christmas. Lads, Bill Gates couldn't afford this list – and that's before he gave away all of his dosh. The list is then revised and added to as Christmas draws closer – I'm on version 4 now and counting – and he'll drop subtle hints into conversation, too. "Cold morning", I'll say. "Yes, IF ONLY I HAD SOME 100% CASHMERE SOCKS", he'll say, while sighing melodramatically and staring at me in a slightly demented fashion to make sure I've registered the hint. "OR A WARMING MALT WHISKY THAT IS OLDER THAN 10 YEARS.  OR AN OVERCOAT MADE OF REAL WOOL NOT A BLEND." (All of these things are on The List this year.)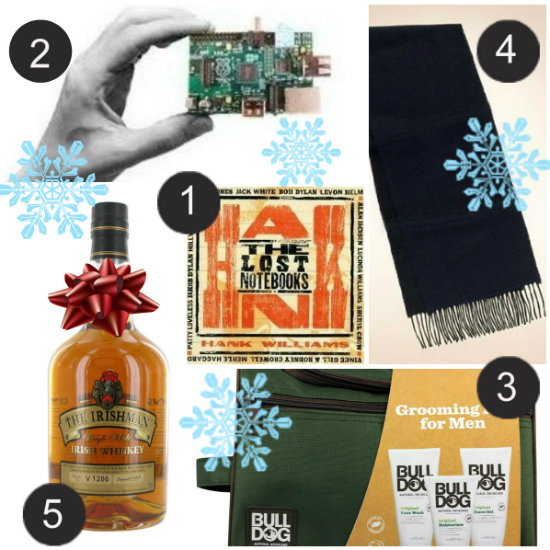 Between himself and Mark and the other awkward men in my life, I'm well practised now in the art of Buying For Men. Hopefully some of  these suggestions will put a smile on your fella's/Dad's/brother's face come Christmas morning.
ONE I've never met a hardcore music lover that doesn't love Hank Williams, considered by many to be the father of contemporary rock. This 2011 album, The Lost Notebooks of Hank Williams, pairs previously unheard lyrics by the country star with singer-songwriters like Jack White, Bob Dylan and Sheryl Crow. Find it on Amazon for £12.00.
Advertised
TWO It might have been developed for kids, but all tech lovers should get a kick outta the raspberry pi – this credit-card sized computer plugs into your TV and keyboard and can be used for spreadsheets, word-processing, games and more. It's £25.92 and you can buy it online here.
THREE British brand Bulldog launched in Ireland earlier this year and their smartly packaged, no nonsense men's skincare has already been a smash hit. Their Grooming Kit for Men is a good place to start – it includes shave gel, face wash and moisturiser for €19.91. Find it at feelunique.com, or pharamacies nationwide.
FOUR If he likes a little bit of luxury then maybe this soft and snuggly cashmere scarf could be for him. At €54 from M&S it's spendy, but not insanely so, and the black will go with everything he owns. (If you're reading love, I draw the line at the cashmere socks. I'm sorry.)
FIVE If he loves his whisky then the Irishman Single Malt will go down well – it's a triple distilled unpeated single malt (nope, no idea either!) from Antrim, that's been aged for 12 years.  Each bottling is a small batch of 1000 cases, and it's €40.99 from The Celtic Whisky Shop.
What about the men in your life – are they awkward buggers to buy for, or are they easily pleased? Think they'd like any of this little lot? And if you've any other gift suggestions for the menfolk, do leave 'em in the comments!