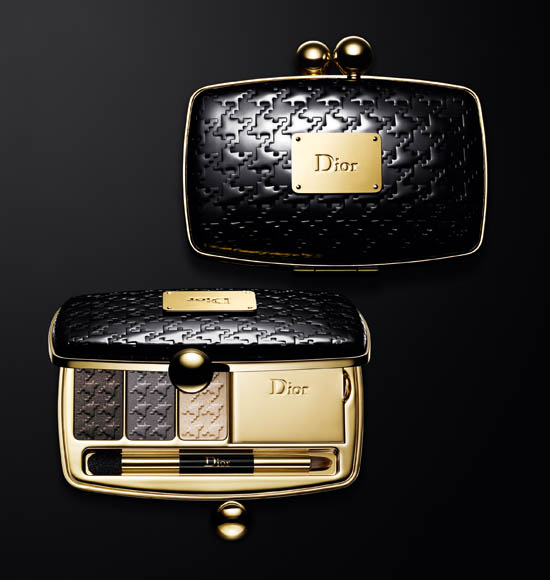 I don't really have to say much about this one, do I?
LOOK AT IT. GAZE UPON ITS WAYS.
This is Dior's Christmas star product, a collectors item called the Minaudiere.  Basically, an embossed patent leather and gold-coloured metal clutch, it features the brand's houndstooth pattern on shadows and case, and is quite the nicest thing I think I may have laid my jaded eyes on for some time.
Available in two colour-ways, grey golds and pink (oink?) golds, the one under scrutiny today is grey golds. €79 is the damage for it - which is a considerable outlay for three shadows and two glosses, so lets have a little real-life look at the one the brand sent me, shall we?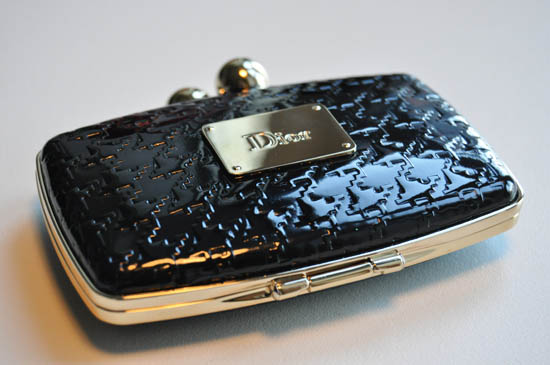 MmmMmmm. Pretty.
Advertised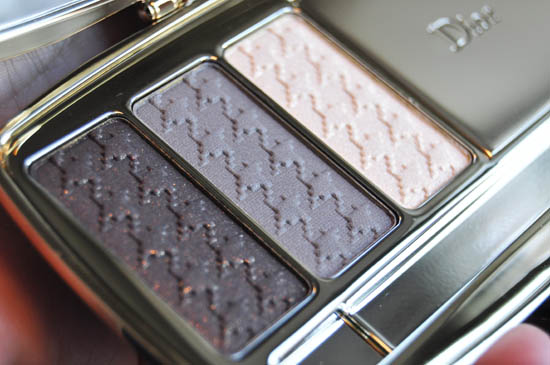 The interior contains a big mirror and three shadows plus two glosses, under a gold metal flap. For the life of me I couldn't get a decent shot of the whole - I blame this poxy winter light. So we'll have to look at this a bit at a time. Shadows are as Dior shadows tend to be, beautiful, creamy and smooth. You get three effects here - grown-up glitter in the black, an elegant satin-finished dove grey and a pearlised, glimmery white for accents.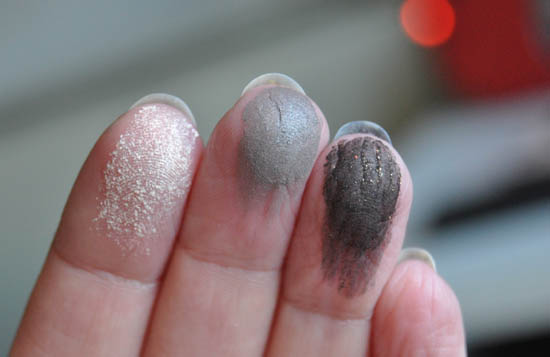 Here are the swatches. You can see the white looks quite loose - it is very smooth and easy to blend however.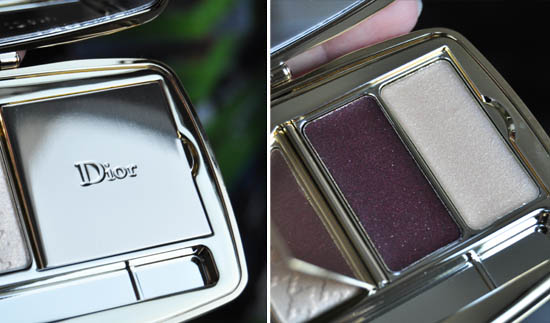 And here are the glosses. A sparkling burgundy and a gold are very much Christmas staples and while they're nice, they don't grab me the way the shadows do.
Advertised
Now, lets step back from this for a second. It's very easy to be completely seduced by the Minaudiere, because it's just such a gorgeous-looking piece of kit, but in actual fact, it doesn't contain any really new shades - most women probably own very similar colours already - or do anything majorly different. The supplied brush is also completely crap - mine was broken upon opening the case, so in all honesty they shouldn't bother.
But it's actually the fact that the shades aren't OTT and bananas that makes this appeal. It's very classic. You've got your chic little padded patent clutch bearing the Dior logo and inside is a trio of very wearable, flattering shades that you will definitely actually use. So, for a high-end, neutrals lover, this is going to make a stellar Christmas present.