 Nobody actually enjoys cleaning their makeup brushes right? Surely it can't just be me who dreads the end of the week when brush washing day comes around and there are 20 odd face and eye brushes in need of a good de-funk.
I envision them staring at me with their beady ferrules, lamenting their clogged up state, judging me for leaving it a little too long (again!) before carting them over to the sink.
Then there's the mess, water splashing left right and centre soaking me as I desperately scrub my F80 Kabuki foundation brush hoping to uncover its once white tipped bristles and a battle of the wills between me and the urge to clean three eye brushes at the same time thus ending the torturous brush cleaning experience faster. Let's just say I rarely win that one.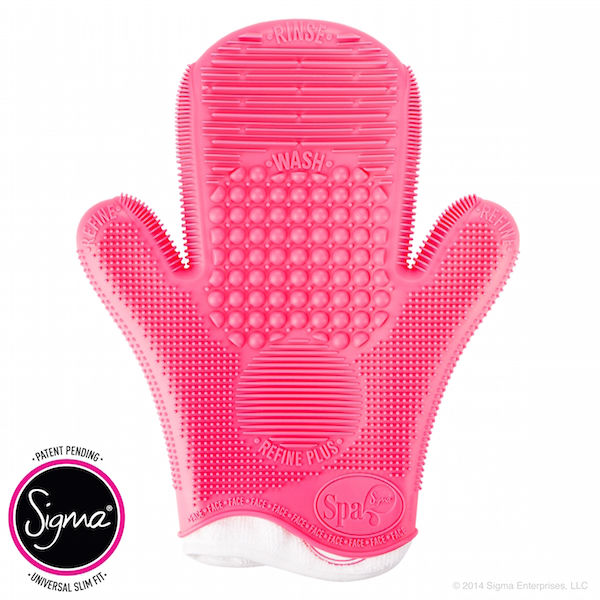 Now we've all seen Sigma's ever so fancy (and so pricey) Spa brush cleaning glove and brush cleaning sink insert, if you haven't you've probably been living under a makeup free rock! It is described as 'an innovative, textured cleaning glove designed to deep clean your brushes…' yada yada.
Of course it comes in four fun colours (for the fashionable make-up addict) for which you pay an outrageous €40 price tag.
Now there are a couple of reasons why using a product like the Sigma Spa cleansing glove could prove beneficial. Firstly it helps remove blemish-causing bacteria; secondly the textured part helps get deep down into the brush unclogging the bristles and removing make up build up; thirdly it can prolong the life of your make up brushes.
Now I know that scrubbing at bristles for unnecessarily long periods of time can cause the brush to start shedding and can dry out natural haired brushes (think MAC goat hair), so I thought it time to venture from my Doubting Thomas ways and invest in a great brush cleaning aid.
Advertised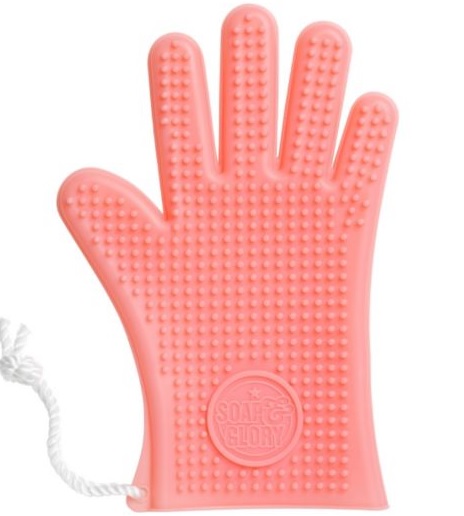 Enter Soap & Glory's Massage Glove. While this product is technically for relieving tight muscles and body tension it comes in at a very affordable €11.99 and isn't it a dead ringer for the Sigma offering?
Of course it doesn't come in a plethora of fancy colours or have as many different kinds of texture as its higher end cousin but it works a treat in the cleaning department. Think of it as a 2-in-1 type product, it can come into the shower with you and be used as a body massager and can come to the sink and make your life and mine a heck of a lot easier.
And I haven't even gotten to the best part yet. Both the Sigma and Soap & Glory offerings are made of silicone, meaning that they are flexible, easy to keep clean and should have a fairly long lifespan - bonus!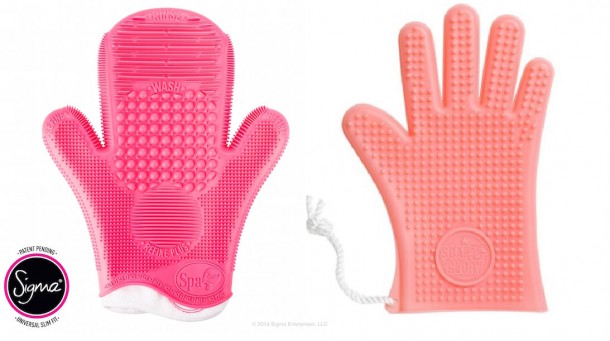 Honestly give the Soap & Glory Massage Mitt a go, it's cheap as chips, you'll be amazed at the depth of cleansing, how it just cuts brush washing time in half and how much easier it will make the arduous task of brush cleaning.
And one word to the wise, no matter what cleansing method you choose to use always reshape the brush bristles after washing and try to avoid standing the brushes up straight as this can cause excess water to seep down into the ferrules weakening the glue.
Advertised
Let brushing cleaning be the bane of your existence no more, the Soap & Glory Massage Mitt is available at Boots stores nationwide and soapandglory.com.
How do you clean your brushes? Is cleaning your brushes a huge bore?