 The name of this collection is a bit disheartening now that our neighbours in Scotland have voted no to independence. But we can still enjoy the wintry deliciousness of Essie's latest collection. Despite the fact that makeup and cosmetics are not at all serious ( hipsters wearing inside-out top hats with pockets full of Kale talking in very serious tones about fashion can jog on), they make our lives nicer and make us feel better about ourselves. The value of that - particularly in the winter months, shouldn't be underestimated.
Sometimes, when I'm not having the best day, the pleasure of putting on some bright lipstick, or catching a glimpse of a fun colour on my nails cheers me a bit. It sure won't solve your problems, but it's the little things that help you to keep positive.
Nail polish is a way to experiment with colour that you might not be brave enough to wear elsewhere. The deep, dark, rich tones of winter and the hot reds you might be afraid to wear on your lips look great on nails. I also believe firmly that nail polish has no age limit - you can wear any colour at any age. Express yourself and have some fun, because goodness knows there's enough gloom to be dealing with at this time of year!
Here's what Essie has to offer this autumn, and it sure is wintry.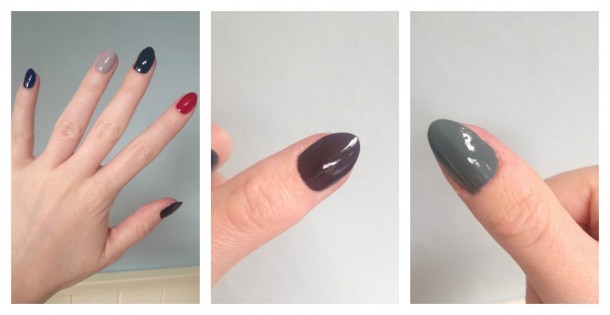 From L to R (Full Hand Shot): Style Cartel, Take It Outside, The Perfect Cover Up, Dress To Kilt, Partner In Crime Centre: Partner In Crime Right: Fall In Line
Style Cartel is a rich Indigo blue. The above swatches are with two coats. This shade has the depth that is appropriate for winter but wakes right up in the light, emitting a lovely sapphire hue.
Advertised
Take It Outside is my favourite; a true greige, it's cool enough for winter but sophisticated and grown up. A lovely alternative to pink or brown-toned nudes.
The Perfect Cover Up has me a bit underwhelmed. It is in fact a very deep greyish teal, like the sea on a nasty day. That really only shows up under direct light, though. It looks a bit like a muddy black the rest of the time.
Dress to Kilt is the signature shade. It's a grown-up red with a cranberry hue to it. You really can't go wrong with this one.
Partner in Crime is pretty much exactly the shade of dark chocolate. Rich and deep, it will compliment any wintry makeup look.
Fall in Line is a slightly dusty green shade that will look great with beiges and browns. It's a slightly livelier way of wearing winter colour without opting for the omnipresent plums and reds.
Advertised
One of these bottles of wintry loveliness will set you back €9.99.
Are you liking the look of these? Let us know in the comments!