 When we featured Essie's Winter Collection in the run up to last Christmas, we thought things couldn't get any more glittery or elaborate. Oh, how wrong we were.
The new Encrusted Treasures collection is like a night time wardrobe for nails. Each of the collection's six shades contains light reflective particles of glitter, but they vary in size, shape and colour to create an array of textured glitter polishes.
Belugaria, named for the caviar it resembles, is a gritty, textured black polish intershot with disks of holographic glitter. Despite the glitter, it dries to a matte finish, making for a really interestingly grungy look.
Peak of Chic is a white feather polish with silver holographic feathers designed to catch the light. Again its texture is the main focus, and it dries to a pretty matte finish.
On a Silver Platter is a superfine gold sparkle shot through with blue glitter. The contrast is really eye catching, and this one dries to a shiny, reflective finish.
Lot of Lux is my favourite. An opulent royal blue , it is composed entirely of incredibly fine blue, purple and gold glitters which dry to a finish that is somehow both sparkly and matte. It is also so opaque that one coat will do the job!
Ignite the Night is a gunmetal grey glitter. The glitter is a little chunkier than that in Lots of Lux, so the texture is a little more obviously gritty and a little less matte.
Hors d'Oeuvres is the most like a classic glitter polish. It dries to a shiny finish and is composed entirely of gold and silver holographic glitters of various sizes. Blingy in the extreme!
Advertised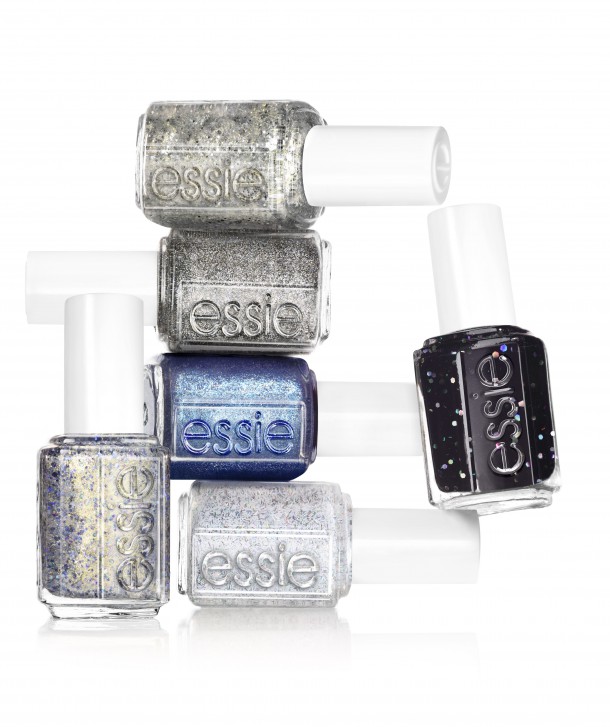 Essie's Encrusted Treasures Collection polishes are available nationwide at €11.99 and are not for the faint of heart.
Other than the fact that glitter is such a divil to remove, are you a fan of glitter polishes? And will you be amping up your night time wardrobe with one of these?