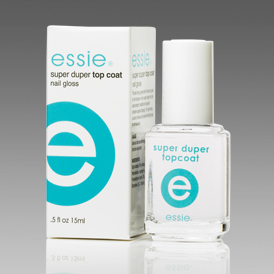 Over the weekend, I really did a job on my nails. That is to say, I made an absolute hash of my nail varnish altogether: my only  base coat was gone gloopy, my two coats of colour were hastily applied, and I couldn't put my hand on a top coat for love nor money. In the cold, harsh light of the following morning, I could see that there were bubbles all over the shop coupled with something else... what the..? Oh right, hatchmarks from the bedsheets. Lovely.
One coat of my new Essie Super Duper top coat later, however, and things were looking up: my nails looked much less, er, "textured" and were fantastically glossy to boot. Now, while there's still no sign of a budge on the colour in terms of chips or flakes, that initial incredible glassy shine is pretty much gone, gone gone gone, exactly like yer woman in the The Sawdoctors song. Bah.
Advertised
It does dry quite quickly and there's no sign of drag on the nail colour, which can be a big problem with some top coats and a real pain the ass as you wind up with a muddy coloured varnish. At €15 a pop, though, I frankly don't think that a long-lasting sheen is too much to ask.