 For most people, eyeliner can be a challenge. When I'm teaching makeup it's the one thing that takes my students the longest to get their head around.
There are a few things to keep in mind when you are trying to achieve the perfect "wing". The first thing to keep in mind is that practice makes perfect, so the more time you spend getting your hand used to holding the liner and practicing the motion the easier it will be for you to achieve the look you are aiming for. I always say to practice before your evening shower - give yourself half an hour and work on your technique, should it go wrong it doesn't matter as you will be washing it off anyway.
The second thing to remember is not to be in a rush when you're doing a liner look - if you have just finished a lovely eye look and decide to add a liner 5 mins before your due to go out and meet your friends, you will no doubt feel the pressure and mess it up.
Lastly, finding the right tool for your hand is most important, there are many liners out there from pot, pen or pencil. Each one will not only give you a different result but will also require a different way to hold the tool. So trying different products is a must when you are learning to find the one the works best for your hand.
For all you liner junkies you will be delighted to hear on the newest launch from NYX.
Advertised
That's the Point Eyeliner Range €12.50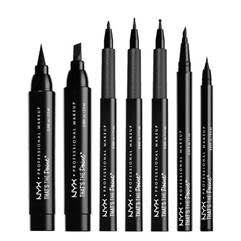 This range of seven different shapes and sizes of liners is a great way to learn what shape works for you. From precision tips to slanted edges to help you achieve the perfect flick. There is no doubt one of these will work best for you in your efforts.
Have you got any tips to help you achieve a perfect eyeliner? We are dying to hear them.