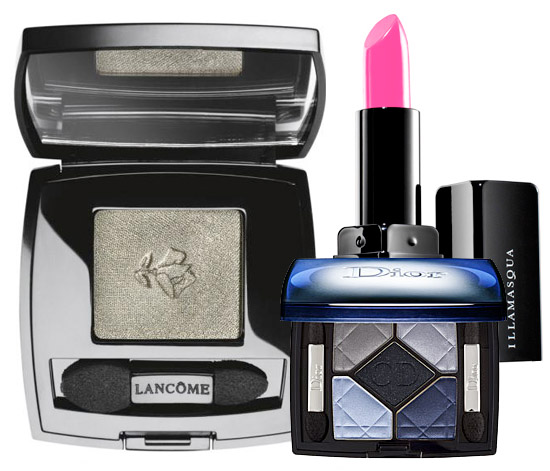 A bit like Aphrodite, I *might* have gone to bed a night or two over The Christmas without correctly removing my slap, and I also had a few makeup-free days too. But of course, I did roll out the stops for both Christmas day and New Years Eve.
On the day of Much Eating (at which Beaut.ie dad had to be forced, yes, forced, to release the white wine from his locked and barricaded wine garage) I did a deep silver smokey eye, using Lancome's totally excellent - and totally deserving of its own post - Ombre Absolou G40 Erika F eye shadow. It doesn't look much in the pic but it's a silvery-minky-grey shade with good shimmer and pigment. I used it right up to the crease with some carefully-placed black shadow at the corners for depth and then blended the frig out of it all for a soft, smokey finish. Lashings of my pink bought-in-Paris-and-totally-adoring Rouge Baiser lipstick - also deserving of its own post - finished me off.
I'm no believer in the lips or lids thing (why deny yourself, eh?) so for NYE I got out my trusty Dior 5 Couleurs shadow palette in Twilight and washed my entire lid (primed first with Guerlain's nicely tacky Ombre Eclat Eyeshadow Primer) with the navy shade on bottom right, which I like a lot with my brown eyes. More back shadow was applied at the corners and up into the crease and then the blending brush came out - for this look I blended up above the crease as I knew there'd be pictures taken, and dramatic eye makeup always helps your look to stand out.
Advertised
To add a bit more festive cheer to it all I put a dot of Too Faced Shadow Insurance on a finger and then dipped it into a pot of Barry M Dazzle Dust (Petrol Black to be exact) which has fab blue sparkles in it. I patted said finger onto the centre of both lids and the glitter stayed put all night. Lipstick? Oh whore-tastic: I dug out my Illamasqua lipstick in Avenge, a bright, screaming flouro pink.
Sadly all the pix ended up being drunken and out focus, but hey - you live in hope. So, that was me this festive season, but what about you lot? Did you get any great slap for Christmas you immediately road-tested, or did you get brave and try some new looks? Tell us all in the comments!