 We've been testing out the Double Radiance primer from Flormar. And it's glam, glam, GLAM!
The Double Radiance primer from Flormar is the follow up to their much loved Illuminating Base. If you haven't seen it, it's basically like liquid gold in a bottle. Think J-Lo in the noughties, Miami beach parties and Beyoncé (eh, all the time). The light reflective formula is an Insta-makeup dream, but how does it fare in real life?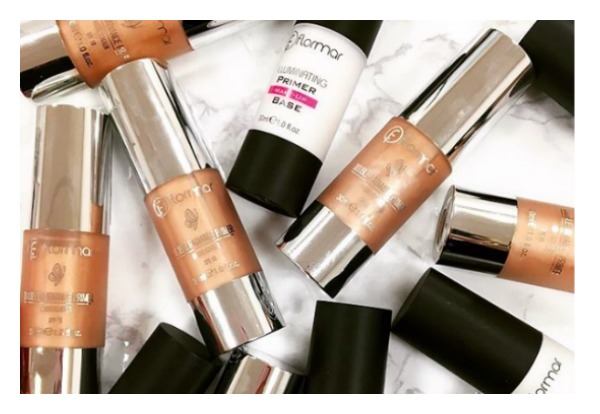 Flormar Double Radiance Primer €12.95 (pic via @flormarireland_uk)
I was first introduced to it when working on a video shoot for Miss Universe last week. Considering the circumstances, a little bit of glam was definitely required (vs me, at home, pottering around loading the dishwasher and watering the plants). What struck me initially is that this is really, a highlighter/primer mix, which puts it into the same category as the Charlotte Tilbury Wonder Glow (€49). The idea behind both is the same - create an under glow that leaves skin illuminated and radiant.
The formula is easy to work with and blend over skin alone or mix into a foundation. The warm, golden tone creates a gentle, soft focus glow that works particularly well accompanying a tan.
Advertised
As we were going all out Glamazon for the shoot, I used the formula as a primer and as a highlighter, applying it all over legs (which explains my flattering pose in the picture above!) arms and décolletage. It worked perfectly and looked absolutely beautiful.
So, on a shoot with Miss Universe Ireland, this ticked all the boxes. But at home, as a non-model type who's a couple (ahem!) of years older, how did I get on? Well, it's kind of an unfair question, because you see, I don't really like ultra-illuminating primers. I feel they make me look shiny rather than glowy, and with my Casper type skin tone, it's all a little too much.
Eventually, I settled on a compromise, using the normal Illuminating primer along the T-Zone and Double Radiance primer on cheekbones and outer parts of the face. It worked! I liked the lifting effect it gave as well as the glow when I moved. As it wasn't on my T-Zone, the glow stayed where it should and overall, looked good.
Advertised
If you want a glow, this will give it to you in spades. It's probably more suited to younger skins, but don't discount it if you're not in your 20s. Use it sparingly, or mix it in with your foundation and it'll work really well. And if you're on the hunt for a Charlotte Tilbury dupe, it'll save you a whopping €36 too!