 We all love a good makeup setting spray, but this is much more than that. 
When it comes to protecting our skin against environmental damage, we all know that SPF is the best thing for the job. And if you have a classic celtic complexion, SPF50 is the only way to go. Unfortunately, most SPF products have a thick, heavy feel to them which can be uncomfortable to wear. Foundation starts to slide and you're left having to reapply powder 50 million times a day. Yep, it's a pain.
But what if I were to tell you there's an alternative? That not only protects your skin, but also keeps your make-up in tact and looking great, ALL day. Would you be interested?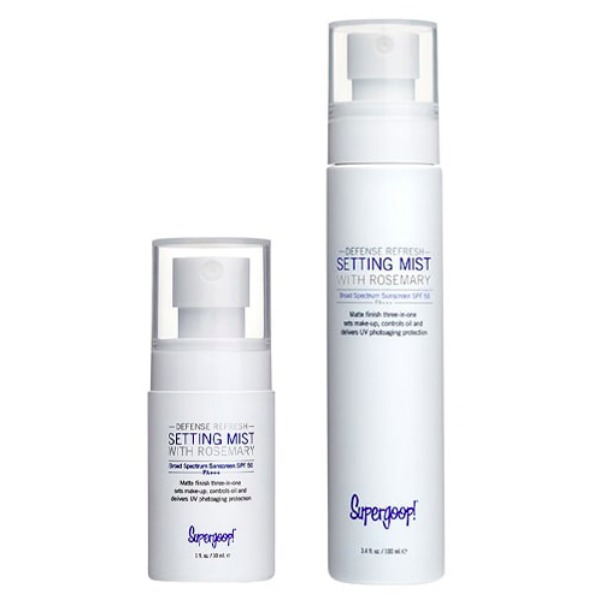 Well, say hello to our (and possibly your) new best friend; the Supergoop Defense Refresh Setting Mist*. It offers everything you could want from a traditional make-up setting spray, but with added SPF50. Which means of course, you can wear your normal foundation/powder/bronzer etc without disruption and simply add your SPF at the end.
Advertised
From a cosmetic point of view, this really does a great job keeping your make-up on for the day. It smells gorgeous too thanks to the added anti-oxidants including rosemary and mint (which make you want to reapply all day). The best thing about it though, is that you can top up your sun protection on the go, and while doing so freshen up both your skin and make-up too. It's available in two sizes; 30ml and 100ml which are both travel friendly (thinking ahead to summer holidays!) which is always a plus in our book.
So there you have it, longer lasting make-up AND sun protection. Who says you can't have your cake and eat it?
*available online with amazon.co.uk and beautybay.com