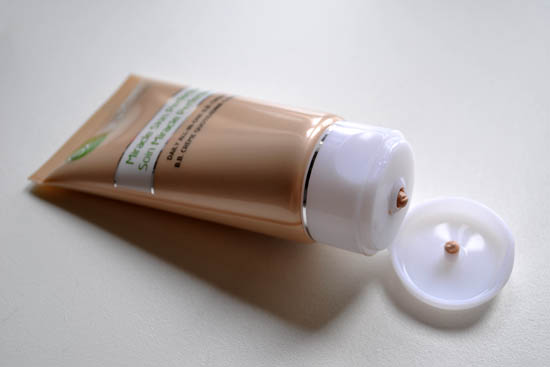 We took a look at the very soon to launch Garnier Miracle Skin Perfector Daily all-in-one B.B. Cream, €14.99, last week and this is an interesting product from a Beaut.ie point of view because it's the first proper European take on the Asian craze for BBs - or blemish balms - which are creams to give light coverage, UV protection, whitening, skincare properties and often other doohickeys besides.
The ones for sale in Asia often have a noticeably greyish cast to them to cancel out sallow tones in the skin; Garnier has left that out of its product which comes in two shades, light and medium. If you're on the darker end of things, you're bang out of luck. Garnier has also played with the traditional BB formula in that its SPF at 15 is a lot lower than the traditional 40-50 or so and the skincare benefits in this product don't include any whitening or brightening, instead, 24 hour hydration is what's promised.
I got a sample of light to try pre-release from the brand, and needless to say, ripped it out of the packaging in a frenzy to give it a whirl. First things first, you get 50ml of product for your money, which is a decent size. It comes in a squeezy tube and it's fairly heavily fragranced so beware if that's a bugbear for you. Scent is a fruity, floral one and while initially it's quite overpowering, it does dissipate once it's on the face.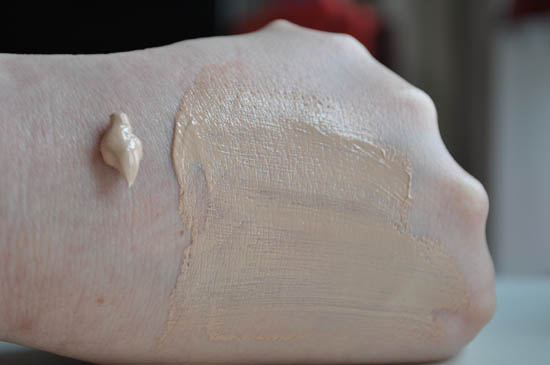 Swatches of Garnier Miracle Skin Perfector Daily all-in-one B.B. Cream in Light, blobbed to the left and lightly blended to the right
Texture-wise, it's nice: not heavy or dry, this is thick but fluid, spreads and blends very easily. You don't need a lot to cover a whole face because it smooths out well, but on the flipside of that, the coverage is sheer - expect a Max Factor Second Skin or a tinted moisturiser-style level of hideous-hiding.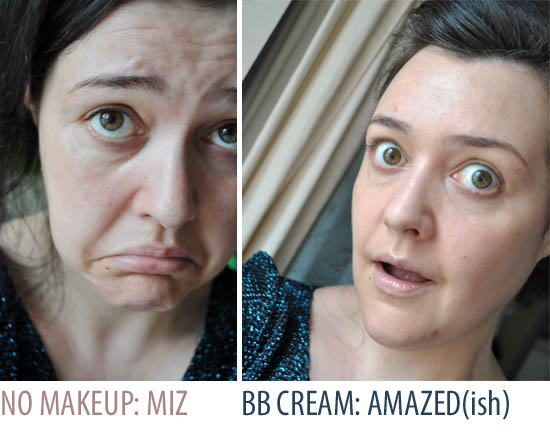 I have absolutely no makeup at all on in the shot to the left; none. Zip. No wonder I look so Irish Mammy of the Sorrows, eh?  Oh don't mind me, I'll just sit here with no makeup on, while you all have your fun. No, go on now, don't think of me again, I'll be fine. *sniff*.
Advertised
In the one on the right, I have a light basting of BB cream - one decentish blob applied to my face and blended out with fingers (I wouldn't be bothered with brushes for this, it's skincare to me). Coverage is enough to take down a bit of redness, even things out a little and unify my complexion, brightening it up a bit, but it can't camouflage blemishes and spots on its own, as evidenced by that monster on my chin. I've no other makeup on here, by the way.
For good skin days, I'm happy with this level of finish and it's around what I would wear on a daily basis. A little eye makeup, mascara, blush and lipstick to finish things off and I'd be good to go. If you like heavy coverage - you will hate this, be very, very aware.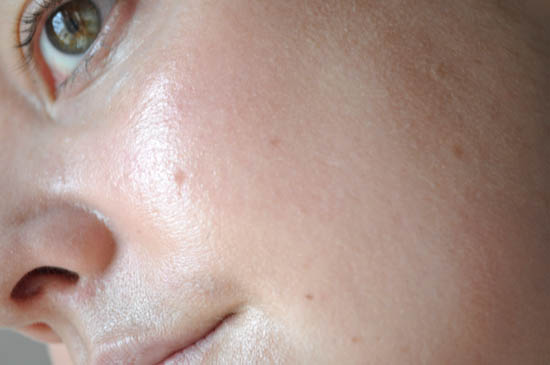 The finish is very dewy, which I do like a lot but I think if you're sebum-prone this isn't going to be a goer for you at all - it'll slide right off. While I'm sure you could powder over it to set the product, that seems a bit counter-intuitive to me, considering all its skincare claims, so I left it as it was - the initial dewiness as snapped above mattifies slightly but my complexion does stay looking hydrated all day and a satisfying amount comes off on my muslin cleansing cloth at night.
Lastly, can this fill the gap tinted moisturisers tried to plug? Well, I'm not sure - I'm certainly not ditching my serum and moisturiser for it and this went on last after my 'regular' skincare was applied. If you've a less dry skintype than mine you may find you could leave out your day cream because of all those hydrating claims it makes - but you'd need to try that for yourself.
So, final thoughts? This is a helluva lot better than any tinted moisturiser I've ever tried (I hate them, by the way). It spreads and blends well, leaves a glow on skin, wears nicely and doesn't fill my chin full of face cheese. I like the included SPF, coverage level, the light shade is right for me and the price at a whisper under €15 is affordable. I'm pleased we've seen our first foray into BB creams from a mass brand like Garnier who can sell it at this level as opposed to what I would have expected, for the first product to have come from a luxury range with a matching price ticket.
A good buy? Yup, for pale-skinned normal-to-dry types who like a light finish and who have no significant coverage/blemish issues, I think so.
Update: Edited to add ingredients listing:
Advertised