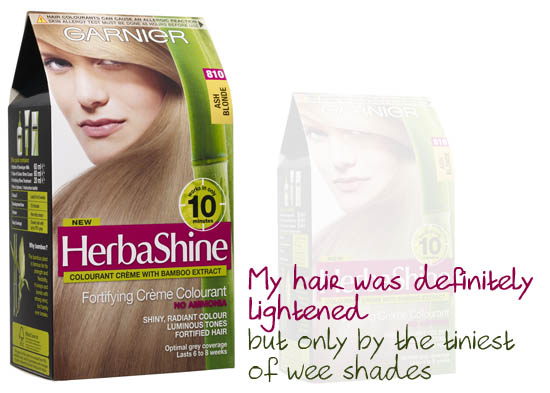 "Oh, I remember you at the Grads – when you dyed your hair orange!" These few words halted my month-long love affair with Sun-In and home hair-colour in general for many moons. Now, the basic pros and cons of DIY dye can seem fairly equal: the mess is off-set by the great price, the tricky application by the time-saving benefits …
The most important element, however – i.e. the colour itself – is notoriously hit and miss, particularly if you're planning on going a shade lighter, as I decided to do with Garnier Herbashine in Blonde800.
After the shamefully oft-neglected patch test, I was ready to don my nose peg and rubber gloves, lash on the bleach and await my transformation. Cue a happy surprise when I read the lovely 'No Ammonia' label, and I'm pleased to report that this smelled like a fruity, albeit slightly chemical-tastic hair treatment, with nairy a rotten egg in whiffing distance.
The tube of Colour Shine Cream was easily dispensed into the bottle of Developer Milk, and after two shakes of a duck's tail the mixture was ready for application. Instructions were clear and really easy to follow: five minutes application for roots and a further five for the remainder, with a final Fortifying Shine shampoo step.
Advertised
Now, as a first timer, I did forget to take into account just how MUCH hair I have, and how long it would take to spread the dye around it, with the result that my roots are now brighter than the rest of my locks. As a curl queen, I can get away with this being lost amidst my tangled tresses, but I would advise the poker-straight among you to be more time-efficient and keep a comb handy to aid with even distribution.
My hair was definitely lightened – but only by the tiniest of wee shades. Any highlights I had have melded together in a uniform blonde. If you're looking to deepen your colour, I'd say this brand is a good, affordable bet, but as a blonde I'd fork out for a professional job in future. I tells ya, we definitely pay to have more fun, wha?