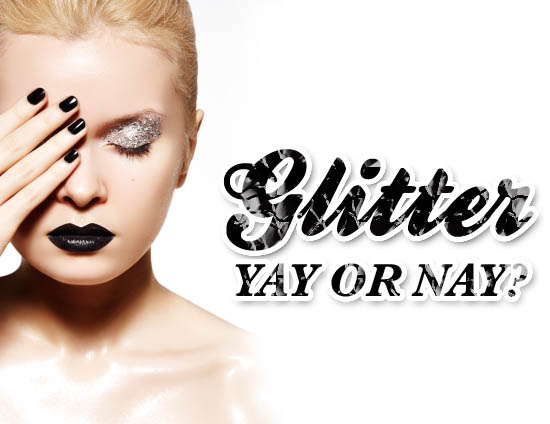 Tis the season to be, well, glittery.  There's more lamé in the shops than you can shake a stick at and makeup shines this time of year too. Whether you should get down with sparkles if you're past the age of about 18 is a subject of much debate in beauty land and so, in order to put the issue to rest for once and all, we decided to ask two of our favourite bloggers what they think about the prickly issue of adult women and their love - or lack thereof - for glitter.
Take it away, ladies.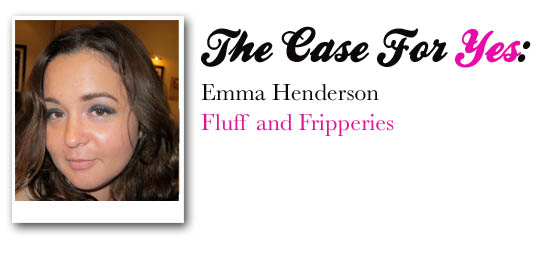 One of my favourite nail colours is Ruby Pumps, by China Glaze. A bright, sparkly red glitter, it doesn't get too many outings but, come December, it's rarely off my fingertips. Christmas and glitter go hand-in-hand and the sparkly stuff is a fun and easy way to sprinkle a little dazzledust over parties and special occasions.
If you're scared of the shiny, don't be: it's come on a long way since those ice blue glitter lipsticks we all wore in our early clubbing days (what, just me?!). The key to grown up glitter is smaller, finer particles, that won't settle into creases or fine lines. Contrast is important so I like to get my glitz on in one area only, and keep everything else looking more matte and neutral.
A touch of sparkle on eyes, eyes, lips or nails looks gorgeous whatever your age, and the most subtle way to achieve it is with a swipe of liner along your top lash line. Urban Decay's Heavy Metal Glitter Liner in Midnight Cowboy is a personal favourite: once dried it won't flake or smudge, and it gives a twinkly flash of colour that opens up the eye. For lips, I love YSl's golden glosses: #31 is a great nude with glittery golden flecks.
And if you think glitter can't be elegant, then I have one word for you: Chanel. The epitome of grown-up glamour, it follows that the brand's stunning Illusion D'Ombre eyeshadows are the perfect route to grown-up glitter. Fantasme is a silvery-white shimmer, Epatante a sparkly pewter and Mirifique, my favourite, is a black with multi-coloured sparkle that looks great  with a matte, nude lip.
By all means, keep your neutrals for the nine-to-five but, after hours, I say bring on the bling!
Advertised
Check Emma's blog Fluff and Fripperies, for daily treats, eye candy, fashion and beauty. www.fluffandfripperies.com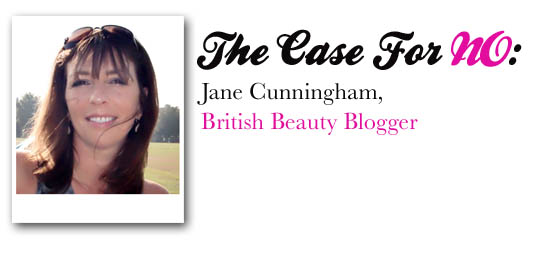 No Glitter!
Glitter is a very unpredictable ingredient in makeup, so while you might think you are creating a twinkling, party eye, chances are it's strayed very far from its original destination and has liberally spread itself all over your face. It reminds me of toddlers who got to play in the glitter tray at nursery - it just gets everywhere! If I see 'cheek sparkle', I automatically assume that it's a horrible mistake and you have just totally missed your eye or used some kind of brush that has been horribly unreliable in distribution.
It's not that I object in principle to a woman of any age wearing glitter, but there comes a time in life when an illuminated cleavage is a bad thing. I can just about go with a delicate sprinkling over the shoulders if you're wearing strapless or something, but when it comes to sparkle, less truly is more. If you daub glitter on your hair, eyes, lips and body then don't be surprised if someone hangs a bauble on you. Glitter also has a clever way of highlighting the things you don't actually want to accentuate - if you are going to use bling to draw attention, make sure it's in the right place and not lodged in your creases.
Actually, glitter is remarkable in it's ability to stay around for ever ... it's like the eternal matter ... it will still be there the morning after, and the one after that and the one after that and highly unlikely to be in the place where it started. Go too liberal with your twinkles and you'll be wearing it for months. So will your cat, your carpet and your bed. It's as well to be warned that if you do sport a glitter lipgloss, and you end up lucky under the mistletoe, it's also going to end up all over your beloved. Trickier still if it's someone else's beloved.
The rule with glitter is do ONE thing ... not EVERYthing. Or better still, banish the tinsel look altogether in favour of highlighters and sheens to get an illuminated glow that is sophisticated, flattering and won't make you look like you should come with integral fairy lights.
Jane Cunningham is the editor of the entertaining, informative and always unmissable britishbeautyblogger.com
Advertised
What's your take on it? Glitter good or glitter bad? As always, to the comments!