 Your holiday is the perfect time to strip back your beauty regimen and spend less time preparing yourself and more time having fun
Let's start on a bright note; holidays is an ideal time to pare everything back. The vitamin D from the sunshine usually has a positive effect on your skin. Your skin tends to feel and look healthier. A little bronzed glow or a few extra freckles will also make your skin look warmer. When you have that extra bit of colour on your face, you might find you don't need to use as much foundation.
Because, honestly, a hot climate is really not a good situation for loads of makeup. The heat causes us to sweat, and a sweaty face does not mix well with slap. You find yourself dabbing at it and touching it all night long. Your hair sticks to your base, and your mascara runs into grubby black smudges under your eyes. It's just not a good look and it feels pretty uncomfortable.
The only solution to the holiday mess face is to wear less makeup. So, lucky about that vitamin D, eh?
We find these two products could literally do your whole face for your holiday if you are really looking to pack light. A waterproof mascara (to prevent the panda eye situation) and a gorgeous tinted moisturiser with SPF which should give you just enough coverage, and you can use it day and night.

Advertised
This tinted moisturiser with SPF gives a little coverage and evens out your skin tone while providing high sun protection during the daylight hours. The colour can vary a bit sometimes depending on the batch it has come from but it suits a wide range of fair skin tones. If you do find it's too dark at the start of the holiday mix in a little bit of your lighter foundation. It will still be a much lighter coverage than usual. This tint leaves your skin dewy and glowing and lasts for hours.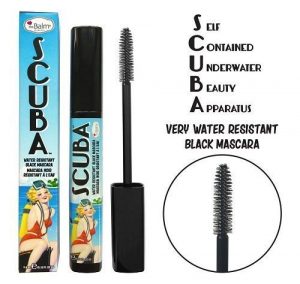 This waterproof mascara by The Balm is one of our favourites ever. The brush is great for really combing and gripping your lashes for even distribution. The best thing about it is that it doesn't budge! It's a must-have for anyone with oily skin that has the under-eye-panda problem. It's perfect for holidays; wear it to the beach bar during the day or for gorgeous black lashes at night.
Advertised
Will you be bringing a full makeup bag on holidays or do you like to pare your makeup routine back when you are in the sun?