 If you have no time for fancy dress costumes but you still have to go to the party you could try out one of these simple Halloween make up looks.
Each of these looks requires nothing but your usual makeup bag. They are easy to recreate even if you're not a professional makeup artist. You should be able to find all the items needed for the looks at home or in your makeup bag. We're talking eyeshadows, eye pencils and lipstick to create the detailing for the looks. No face paints needed.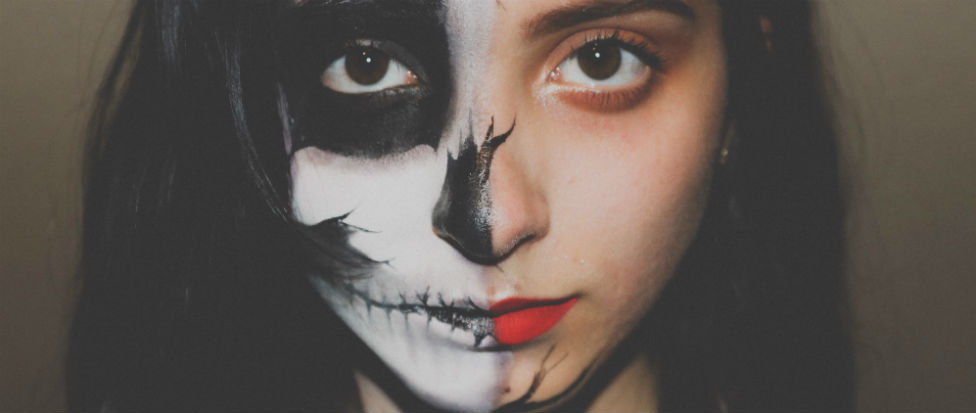 Handbag Skull Makeup
For this one, you'll need your trusty black gel liner, black kohl pencils, black eyeshadow and gold eyeshadow. It's always helpful to have a couple of matte blending colours to diffuse out blunt edges and give your creation a flawless finish.
Advertised
Beautiful Skull
There's no denying this is a fabulously creative yet extremely simple Halloween makeup look. You can just do your makeup as normal. Do a beautiful flawless foundation, your lovely smokey eye and then you can get creative to get your scare on. You can recreate this with a dark lipstick and some blue eyeshadow patted on top of it. If you don't have dark lipstick, fill in your lips with black kohl pencil (I recommend a layer of lip balm first). Lip balm will stop them looking dry and cracked. Then you take your black kohl pencil to draw in the skull lines. Use an eyeshadow blending brush to create the shading along the jawline and skull line.
Scary Clown
Red lipstick anyone? Once again this look just requires a regular makeup look with a smokey eye. Then use your red lipstick to create the spooky clown effect. With lipstick, it's always a good idea to blend the edges with eyeshadow or something matte so it doesn't smudge all over your face.
Advertised
Are you dressing up for Halloween? How much of an effort do you usually make?