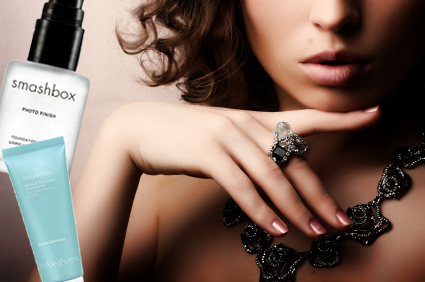 Saturday brought with it a trip to Wicklow to attend the afters of a very chic wedding. I knew I'd have to scrub up well to pass muster, so for once, I put a bit of thought into my makeup. Recently, I've been on a very pared-back trip, which is unusual for me because when it comes to colour cosmetics,  I usually really love to experiment. So I pulled out all the stops, and decided to go for flawless skin and smokey eyes. The trick with both is all in the preparation, so I took a lot of care before I even cracked my makeup case. It's worth it - I think a smokey eye needs to be paired with a flawless base, so it doesn't look like you rolled out of bed with last nights slap on.
With that in mind, I began in earnest earlier in the day with a bit of skin prep. I cleansed, whacked Prescriptives Instant Gratification Skin Renewal Peel onto chin and nose to let it do its skin-clearing best. It helped clear congestion and a couple of flaky patches, and I then followed it with a hydrating masque by YSL to give my whole complexion a boost.
That gave me a good canvas to work on, but to add a little more pore-refining and skin smoothing goodness, I used Smashbox Photo Finish too, pre-foundation. Using my own custom-blended Prescriptives foundation, I blended, blended, blended and concealed what needed to be hidden with Bobbi Brown Creamy Concealer. A feather-light dusting of Clarins' new loose powder then sealed the lot, applied with a big powder brush. Using a tip I'd picked up at the Bobbi Brown masterclass, I left blush and bronze out at this stage, till I could asses how much I'd need once the eyes were done.
Advertised
The result? I got the flawless skin I wanted, and after lunch I'll take you through the steps to finish the look.