 Highlighter is one of the most important elements of makeup right now. But, for it to look good, you have to use the right one for you
I have oily skin, and yet there is nothing I like more than a dewy look. But rather than just not bothering to put makeup on my cheekbones, I can have it all! All it takes is a great highlighter.
For skin tones like mine, it's important to keep the foundation matte and the powder matte, but some strategic highlighting in the right areas will give you a dewy finish on your skin (when it's done properly).
Choosing a highlighter is just as important as choosing the colour of your foundation; it has to match the colour tones in your skin. If it's too white, it will look grey or silvery, and you will look like the tin man. What you always want to go for is something in and around your skin tone. So if you wear a warm toned foundation, go with a warm-toned highlighter and vice versa. Just because it looks amazing on your favourite beauty blogger, it does not mean it will suit you. Unless you are exactly the same skin tone and colourings.
I've recently been trying out different highlighters for my wedding and I have to tell you about this one as it's quickly becoming my favourite.
Advertised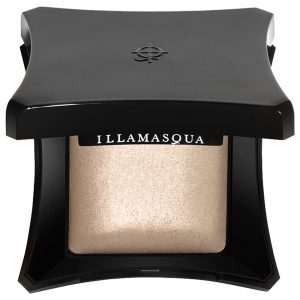 The colour tone is a gorgeous warm/almost champagne tone which warms up the skin while not leaving you with that grey look. The texture of this product works with your skin oils and it almost turns to a cream on the skin which gives you a beautiful, radiant glow, like you naturally just woke up this way. The formula and pigment are up there with some of the best I have used.
It's hats off to Alex Box from me. This one's a winner in my eyes.