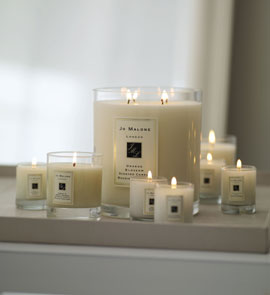 So from my whingeing whimpering on the Blather last week, many of you will be painfully aware that Himself was off gallivanting. Oh sure, it was with work. And yes, it was for training purposes. But when word started to filter through that there were bus tours, hire of trucks (or "big jeeps" to those of us not Americanified by a week in Boston), walking on hot coals, fancy seafood dinners and shopping time involved, I began to feel very hard done by indeed, schlepping 55 miles to and from the office in the rainy darkness and spending evenings looking at the dog.
Blub!
Anyways, he arrived home yesterday morning and bestowed upon me a rather large Jo Malone bag - at which point I nearly fell off the edge of the bed.  He'd only been gone for a week, after all, and who knew that he'd ever even heard of Jo Malone? Inside was a long gift box nestled in black crepe-y paper which, I was later informed, the sales assistant had fragranced with a mist of perfume. Fancy. One prised-off black grosgrain ribbon and an opened lid later, and every one of the brand's dozen famous candles in cute miniature were looking up at me, each one smelling more intoxicatingly divine than the last.
Advertised
Jo Malone scented candles and other goodies aren't really the sort of thing that people tend to buy for themselves: they're super pricey, for a start, very much luxury items to most of us, and there's always the issue of which of the myriad of scents to go for if you're choosing for yourself!
As a gift for someone special, though, I think any of her candles in any size would be a real winner - hey, I've forgiven the stupid American "truck" thing completely - and definitely worth bearing in mind with De Chrissmisss fast approaching...
Not heading to Saks in Boston any time soon? Brown Thomas stock Jo Malone; set of 12 mini votive candles €160.