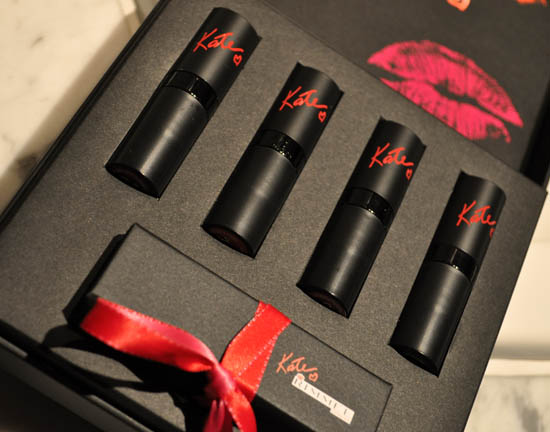 (my press pack; the bow-wrapped doofer is a lipstick case!)
While you'll find the Kate Moss lipstick line for Rimmel at Boots stores in Ireland now, the official launch date isn't until October 10th, as that's when it'll be available in pharmacies and supermarkets in the republic. I'm in London as you read, for Rimmel's 10th anniversary celebrations of Ms Moss as face of the brand, and I've been checking out the lippies (officially monkiered Lasting Finish by Kate Lipstick, fact fans) as well as getting the low-down on some heritage and checking out what's coming next product-wise (lots of cool stuff).
I may have gotten to chat with Georgia May Jagger too, y'know, as one does.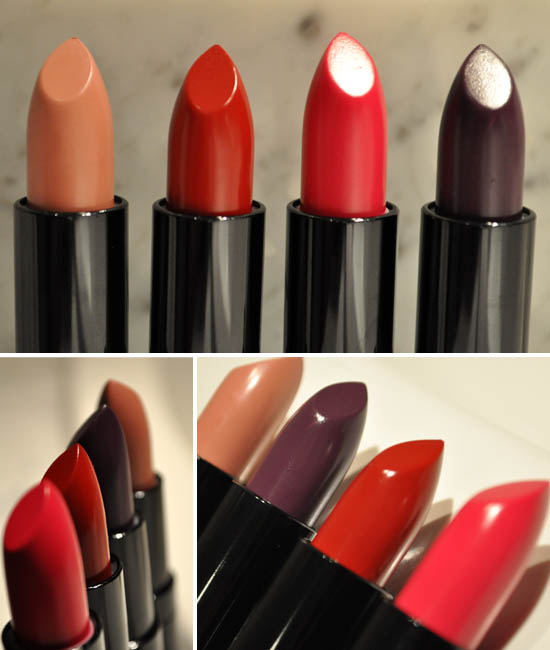 Shades: 01 (Kate's red, worn in the ads), 02 (pink) 03 (nude), 04 (deep purple)

Advertised
More on all that next week: lets take a peek at Kate's new lippies today. For €6.95, first impressions on these are very good. Ok, packaging isn't as luxe as I'd like but this is a mass market line so you can't expect gold accents and satisfying clunk-clicks. The shades are great from the four I've seen - it's an almost Mac-alike edit.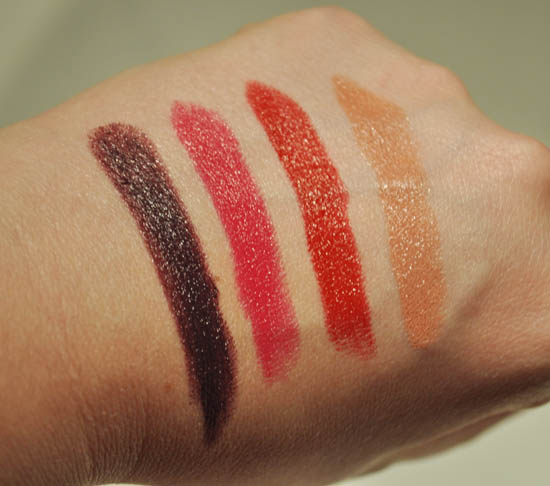 Here are the swatches, and my quick test confirms that these are satiny-sheeny, full of pigment and film-formed to last to some extent. You can feel that there's an ingredient in the mix that helps them cling to lips but they're not as drying as a longwear or a matte formulation. There's a pleasant scent and a nice sheen plus full opacity on the lips. In fact, pretty much everything I look for in a lipstick really. All that for a whisper under €7. Eh, yes please.
Shadewise, there are seven in total; I'd like to get a look at the others and check 'em out.  Of the four I have, it's 01 and 02 that I'll really get the wear from. 12 seems to be a coral/orange from swatches on the Rimmel site, and I'd imagine the brand plans to add to the line too as time goes on.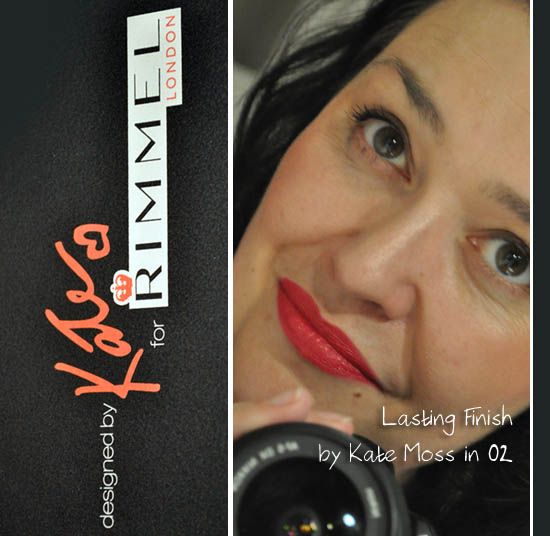 Advertised
And the requisite lip swatch. This is 02 in action. Love this colour.
Have you tried the Kate Moss lipstick line yet or will you wait for it to land at your local pharmacy in October?