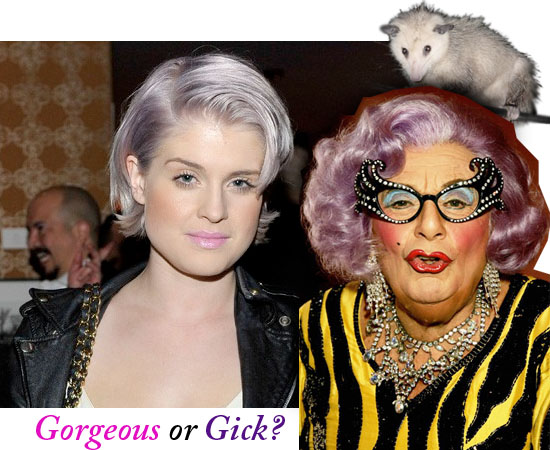 Doesn't it seem almost as though everyone and their granny has had a go of this grey hair thing? For the most part, I haven't liked the silver foxette trend one little bit. Pixie Geldof looked haggard and washed out, Tavi looked like she'd misplaced her knitting needles, and even La Moss only stuck with her blue rinse for one day.
So I was very surprised to find myself loving Kelly Osbourne's newly platinumised locks. There's more than a hint of lavender to it - Dame Edna was the inspiration, according to Kelly herself - and unlike most of her celebridee counterparts, this hair colour doesn't seem to prematurely age its wearer by decades.
Debuting her new colour at a Vanity Fair shindig in LA last week, she kept things looking vintage rather than ancient by pairing it with a natural-looking base, nude eye, fluttery lashes, lilac pink lippie (Lady Ga Ga for MAC Viva Glam) and a shimmery coral blusher that looks Orgasm-alike.
Advertised
What's your verdict?