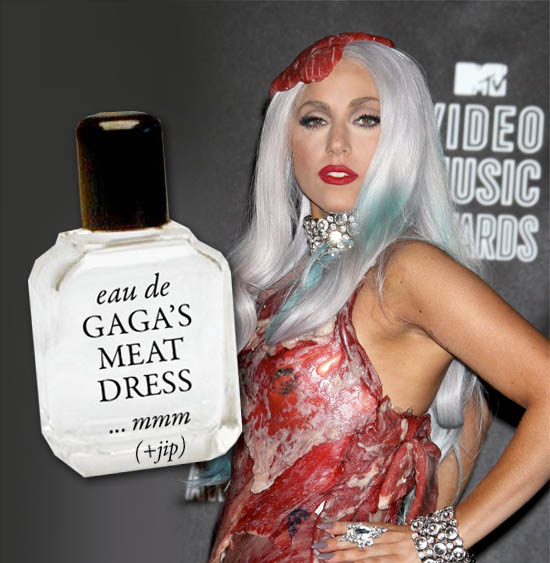 If Lady Gaga wrung out her meat dress after an unfortunate incident with a passing over excited fan what would it smell like?
Why her latest perfume that's what!
But quickly changing her mind as not even her most rabid fans could get on board with this, she modified her statement to say it will be based on molecules of her own blood.  So it what will it smell like then Gaga? Like an expensive hooker she replied.
Tom Ford trumpeted the fact that he wanted his scents to smell like well worn men's jocks.  Well of course they don't, they smell simply divine and not like any jocks I've ever encountered in the washing basket.  Thank god.
Advertised
Gaga couldn't be saying all this just to shock us could she? Oh surely not.   This perfume launch has been widely (and boringly teased) for a very very long time now.  We first wrote about it in April 2010 when Gaga contacted us to give her ideas for a name.  Well she obviously didn't listen to us cos the goddamn perfume still hasn't been named or released.
If this goes on much longer she'll have to say the perfume will smell like poo in a giant lobster claw in order to give it some more shock value.
And even then would we be shocked.  Well no.
Our predictions as to what the perfume will actually smell like?  Vanilla, rose and other flowery stuff like other Celebrity perfumes.  With strong lingering notes of being misunderstood of course.  The money's on it being called "Monster" at the  moment - but is that a little too obvious for Haus of Gaga?
What do you think?