 Last week we discussed the double liner trend and despite many fashion columns slating her makeup and hair, many of us agreed that Lily Allen's channeling of the trend at the Brits was stunning.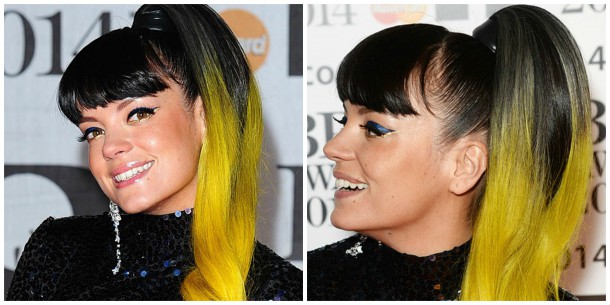 I am always up for a makeup challenge so decided to recreate the look for you and show you the step-by-step process. It probably isn't for everybody as it involves blue eyeshadow AND glitter but remains modern and nothing like those awful makeup mistakes of yore.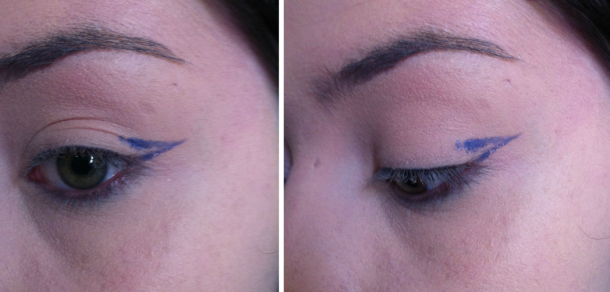 I began by taking a navy eyeliner - I used Urban Decay's 24-7 Glide On Eye Pencil in 'Ultraviolet' - and marked out the outer corner of the eyeshadow. It is pretty much just following the shape of your bottom waterline and continuing it upwards as if you were drawing in an eyeliner flick.
I then took it back down, making a v-shape. Lily has quite hooded eyes and this look is perfect for anybody else who has the same. As I don't, I took this lower than my crease line but if you do, you could simply bring it into the crease.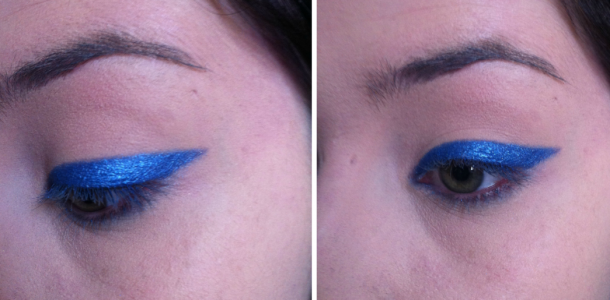 Advertised
I continued the line all the way to my inner corner and filled it in. This looks like a very thick liner on me but for those with hooded eyes, this should simply fill your entire eyelid up to the crease.
I then used an eyeshadow to set the liner. Lily's is more of a dark petrol blue but the closest I had was the dark blue shade in the Sleek Makeup i-Divine Acid Palette. Please forgive the fact that it is a few shades lighter than hers but it does still have that same metallic sheen. If you preferred, you could use a navy gel liner for all of the above steps but there would be a much smaller margin for error and you would need an incredibly steady hand!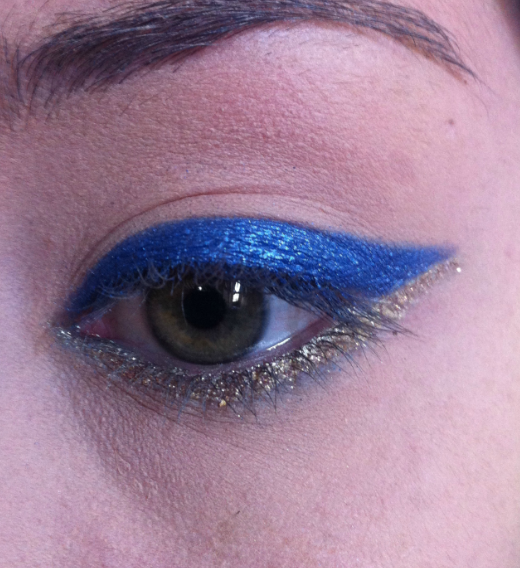 To get the intense gold liner underneath the eye, I applied some of my Maybelline Colour Tattoo in 'Eternal Gold' using an angled brush and kept it quite close to the lashline. I layered it until I thought it was intense enough.
For extra sparkle and glitter I added a layer of Collection's Glam Crystals Eye Liner in 'Funk' on top of the Colour Tattoo. And I added some of my IsaDora Twist Up Metallic Eye Pen in 'Golden Khaki' to keep with the glittery gold theme and brighten up the eyes.
I applied a thin layer of Inglot's Eyeliner Gel in '77 Matte Black' very close to my top lashes to thicken them and lashings of my Maybelline Volum'Express The Falsies Black Drama Mascara. Lily is definitely wearing falsies but I was only nipping to Ikea so thought I was alright without them. (Although the colours did match Ikea's logo prefecty!) Her brows are defined but not overly so, so I filled them in with Benefit's Gimme Brow in 'Dark'.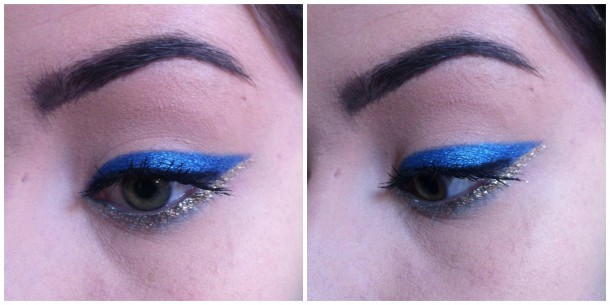 Lily's skin looked natural and glowy (although not deep fat fryer greasy!) so there is no need to apply any powder with this look. Finish with a bit of bronzer and a high shine gloss, and you are ready for the Brits/Ikea/wherever your glittery eyes take you.
Advertised
Because I have a large gap between my brow and lashline, this is not the most flattering look on me as it makes my eyes look teeny but it is absolutely designed for someone with hooded eyes like Lily!
What do you think? Would you give this a go? It might be a bit much for Swedish furniture shopping but I think it is perfect for a night out and bang on trend to boot.