 Liquid eyeliner is tricky. Or is it? We reckon it's just got much easier to apply thanks to Max Factor.
Liquid liner is the makeup product that most people shy away from. Either that, or it's their thing - there isn't much of a grey area. But that could be about to change thanks to a cleverly designed eyeliner nib from Max Factor.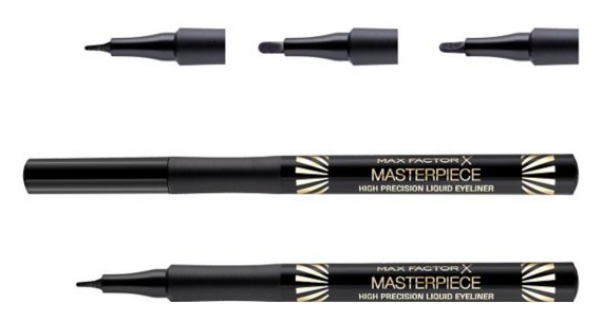 Personally, I love liquid eyeliner, but as a make-up artist, you'd expect me to say that, wouldn't you? Yes, it can be fiddly, and we all get days when our hand jolts off in a weird direction for no reason. But overall, it's a fantastic product for giving eyes definition and shape.
Advertised
Half the battle is finding the right method of application for you. I've always liked eyeliner pens as they're less messy and offer a bit more control. The Max Factor High Precision Liquid Eyeliner (€10.99) is one of the latest I've tried and really liked. It comes in five shades including a beautiful Azure blue.
To even the playing field a little I tend to test out eyeliner products with both my right and left hand, and this passed on both (even if my left hand attempt was a little wobbly to start with!). What makes this different is the shape of the nib. It has an unusual paddle shape rather than the traditional pointed nib. The best way to use it is to lie the thinnest part flat against your lid, then apply in sections rather than one big sweep.
The Max Factor High Precision Eyeliner may not be for you if you're used to working with traditional nibs. But if you're a newbie or someone looking for an alternative style of liner it's worth a try.