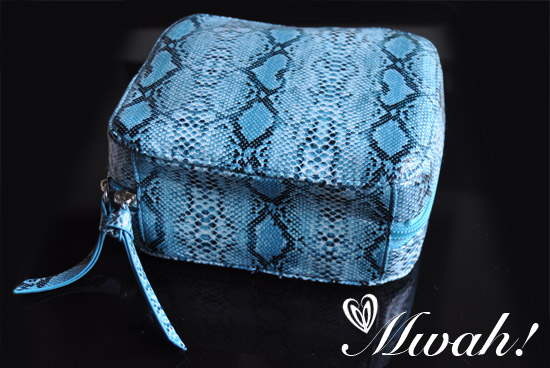 D'you remember a while ago I flagged up the forthcoming Trish McEvoy Petite python planner? Goijus it is, all blue and snake-like and packed full of prettifying goodies. I was in lust. Total lust. Then, in a co-mingling of the alignment of the moon, earth, stars and some personal good fortune, they sent me one. Oh yes.
And I do love it. I love it so much I took lots of photos of it so you could all have a look at it and love it too. The python's synthetic by the way, and inside is one of the brand's magnetised, refillable filofax-esque palettes.  Colours are very me: navy, golds, a nice blue, a tri-coloured blush/bronzer and a translucent powder - it's the white strip. Pan sizes are fine, though obviously you do need to be a bit careful with using a big blush brush or you may end up with navy-streaked cheeks, which may not be precisely the look you're going for. With a bit of care that shouldn't be an issue.
You also get a lip gloss and sample size of the eye base product, which is feckin' fabulous. You're meant to use it from lid to brow-bone as a concealer-cum-primer and it has a really good thick texture that blends well and does seem to give clarity to the eye area and hold shadow in place. But where it really scored for me this weekend was on my cold-ravaged nose. A dab on either side disguised the disgusting for hours. Not its correct usage, but one I'll be keeping in mind the next time I've got a snotty snozz.
I haven't had a chance to really use the rest of the products yet, but the pretty was too, well,  pretty to not show you all. Some more shots of it are after the cut.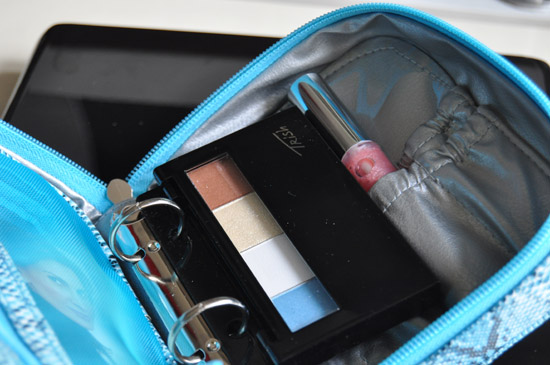 Advertised
The inside of the planner. It's got the binder ring to clip the palette in place as well as space for your other bits and bobs and ruched pockets in which you can put brushes, lipsticks or mascara wands. On the left you can see Trish (who appears to be looking quite malevolent from this angle, as it's a very pretty shot full-on) is peering out of a removable mesh zippered pouch, which has space for powders, blush etc.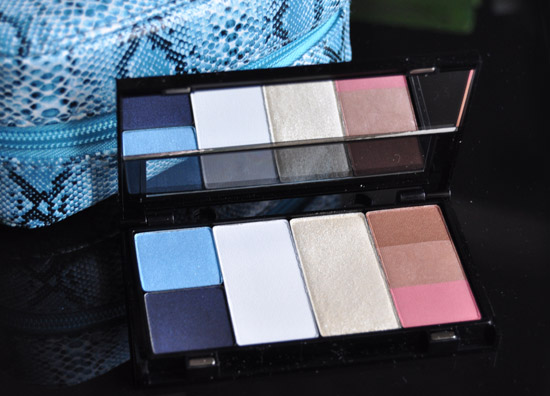 This is the palette itself. Everything is magentized into place so when you run out - or decide you're bored of the shade - you can replace.
This isn't an impulse purchase, at €102 it's not exactly a bargain. But for a present - or some self-gifting - it is a very lovely piece of beauty kit to have in your possession and if you're parsimonious with the packing, is just about the right size for a weekend-away beauty bag.