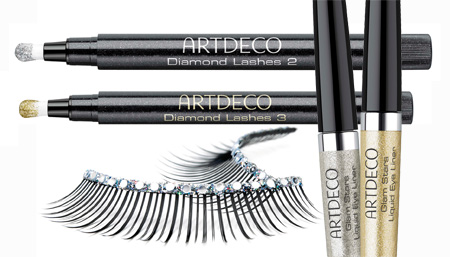 Yup. Not even  Halloween yet, and I'm getting sneaky previews of what's coming up for The Christmas. I liked this one rather a lot, so thought I'd give you all a gander. It's Artdeco's Avantgarde (I think this company has a bit of a prob with the space bar) collection, and there are a few products that make it stand out. Guess what? They're glitter-tastic, hurrah!
From top left, we have a pretty deadly idea  - Diamond Lashes, €18.45. These are gold and silver gel pens which you sweep over mascara, for a pretty, glittery finish. Smart, or what? Beside them to the right are a sparkly staple, glitter liquid liners. They're €15.95 a pop, and are nicely filled with shiny goodness. Lastly, bottom left, are those amazing lashes. Panti would be proud of these boyos - long and curl-tastic, they've got a strip of rhinestone up there at the lashline. Divine, and a mere €10.40.
Advertised
Artdeco is available from Shaws and  Debenhams branches, as well as selected salons nationwide.