 It would only be slightly hyperbolic to say that Seche Vite changed my life, since its revolutionary non-draggin', mega fast dryin', high shinin' ways made painting nails my very favourite beauty endeavour. For my money, and after (counts on fingers... and a toe) eleven years of loyal use, no other top coat can touch it.
That's not to say that Seche Vite is perfect, but I can work around the shrinking and put up with the need to add thinner occasionally to prevent it turning gloopy because I've yet to find something that dries as quickly, to the same mirror shine finish, and can cope with nail art as well as it.
Still, it would be nice not to have to compromise at all, so when I saw a professional product being universally hyped by techs on nail message boards as better than Seche Vite, you better believe that I was all over it.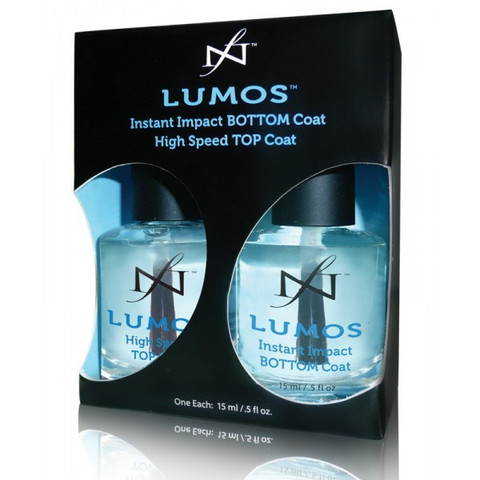 With a name that will delight Harry Potter fans, Lumos comes from a CND co-creator and promises to be totally dry (i.e. not just touch dry) in 10-12 minutes, give a super glossy finish, significantly extend the life of manicures, and stay usable to the very last drop. And, unlike Seche Vite, Lumos is also Big 3 Free.
I bought a Lumos base and top coat duo from eBay and put it through its paces to see how it fared on plain polish, nail art, and on high street vs. pro polish brands.
First, let's talk about the good: the Lumos Instant Impact base coat is brilliant at keeping stains at bay, even when used under greens that usually leave my nail beds looking gangrenous for weeks. It's also extraordinarily effective at grabbing onto polish and keeping it in place; I can actually see the first coat of colour that's applied over it drying in front of my eyes. I was unsurprised to discover that Lumos base coat has an Elle Beauty Award to its name, and I'll absolutely be continuing to use it.
Now, the bad. The Lumos brushes are horrible to use, too long and too thin and unwieldy as a result, which is a particular problem when it comes to the top coat. They feel cheap and nasty; I think Mam would describe them as "mean".
Advertised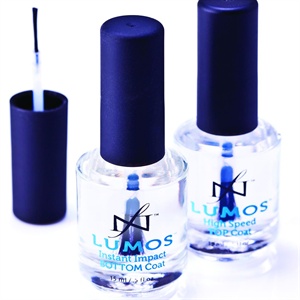 I found it nearly impossible to apply the Lumos High Speed top coat without picking up some pigment from the colour beneath, despite floating the top coat onto the nail, working quickly, and avoiding overlap, as recommended. The shape and length of the brush does nothing to help that particular problem. As for using Lumos High Speed as a top coat over nail art, well, I have one word for you.
Fuhgeddaboutit.
Whether I applied it immediately or waited for the nail art to dry, each time my painstakingly applied design was reduced to a bleeding mess.
I didn't think the finish was anything to write home about and despite using oodles of Lumos top coat, I could see brush strokes when it eventually dried.
I say eventually because when I was taking off my make-up three hours after my manicure, it smushed away from the nail tip.
While the base coat is a keeper, I'm really very unimpressed by Lumos top coat.
Advertised
The duo I bought cost £17.49, incl. postage. Lumos base and top coats are professional products; you may be able to buy them in salon suppliers or from your local salon.