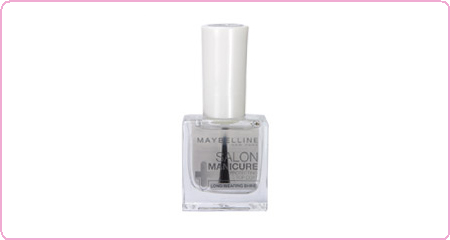 A really good top coat can turn even the most crappy, chip-prone nail varnish into something approaching a product with daycent lasting time. It'll add shine as well as promoting durability, and is an essential item in the kit of anyone looking to prolong the life of an at-home mani or pedi.
Thing is, the top coats that beauty editors tend to rave about are often (relatively) expensive and inclined to be produced by brands that aren't that widely available (tis hard to find Essie, OPI or Seche Vite in the chemist in Portarlington, I can tell you.)
Advertised
For about a third of the price of its fancy pants competitors, you can pick up a bottle of Maybelline's Salon Manicure Protecting Top Coat in chemists and supermarkets from Carnew to Spiddal. It dries quickly to a super high gloss finish and by golly does it last! I'd actually go so far as to say that it's the best top coat I've ever used - not too shabby for €5.99!