 It's time to break away from our makeup brushes and simplify makeup application.
Have you tried out a Beauty Blender yet? We've got to admit, at first we were sceptical about using a sponge to apply foundation. It feels like we're taking a step backwards, right? We have come such a long way since '90s style white angled sponges that came in packs of 100, though, and everybody is schooled in how to apply foundation to perfection with your (very expensive) brushes.
The Beauty Blender (and all the copies) is the sponge 2.0 and if you haven't already, you should give it a try. The new, better, modern version of a sponge is shaped in a unique way with different angles to make it easy to apply flawless foundation. Like a brush, the next gen sponge promises an airbrushed finish to your makeup, and it is just so easy to use.
This one, available in your local Boots, is my personal favourite.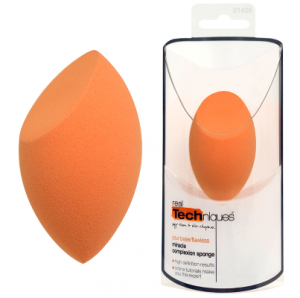 Advertised
The Real Techniques Miracle Complexion sponge has a flat side that you use to place the product on your skin and it works with creams or liquids. The shape makes it easy to place foundation where you want it. You then use the rounded part of the sponge in a dabbing motion to blend the product into your skin. For your concealer, you go back to the flat side, which is shaped for precision application. Dab concealer to smaller areas around your eyes and nose and chin area with the sharp edge.
Then, for any spots or blemishes, use the pointed end of the sponge to apply concealer right to the tip of the blemish and push the product onto the area.
This type of sponge is a great alternative to brushes. It makes for a beautiful application and it's quicker to use than a brush. It's reusable so it's important to keep it clean to prevent bacteria building up in it. We recommend washing it after each use or at least every other use. You can use baby shampoo and water and keep squeezing it into the stained areas. Once all marks have disappeared you just rinse and squeeze the sponge until all the suds are gone and the water runs clear.
You can watch Samantha Chapman's video here if you would like to see a demonstration.

Do you think you could be converted to this method of makeup artistry?