 If you are a mother or just a busy gal on the move, this new NIMA brush set is the perfect condensed collection to carry with you.
This is something I have talked about for years. I love to keep my portable makeup condensed so that it fits in my handbag. Keeping fewer product and brushes with you will make doing your makeup on the run simple and, most importantly, quick! The NIMA 'Mum's On The Go' brush set has been designed by NIMA owner Niamh Martin to be simple to use while giving you all the tools you need to apply a flawless makeup.
The set has five brushes, and five is the magic number. You should be able to do your full makeup with just these guys. Niamh had a baby herself last year, so she is all too familiar with the trials of being a very busy girl running a business and having a one-year-old. While it is the perfect set for mums, it's actually the perfect set for just about any lady with a fast-paced life.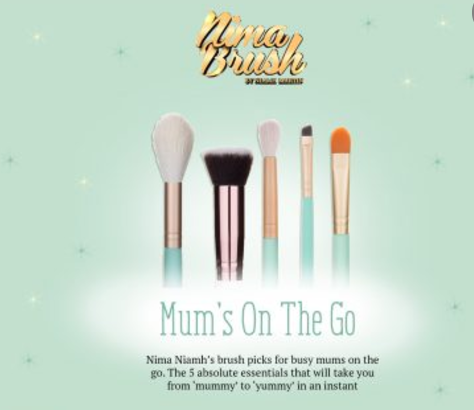 Advertised
The set contains these face brushes, including our favourite NIMA brush, the Flat Head Kabuki. It's the easiest foundation brush we have ever come across and will give you an airbrushed finish on your foundation. Then you've got The Emma, a synthetic concealer brush that can also be used as a lip brush or for cream eyeshadow.
Harley Rose is a multi-use large fluffy powder brush that Niamh named after her little girl. We love this brush with a capital L! You can use it to set foundation, or to powder, bronze, blush, contour and highlight. Yes! All with one brush! If you are concerned about your powders mixing you can swipe the brush on a tissue between products. You should only pick up enough product on your brush to do your face, so generally the product will be gone from the brush before you move onto the next powder product.
For the eyes, you just need two brushes. The Danielle is for both your brows and liner in your upper and lower lashline, or to smudge a dark eyeshadow into your lashline. And finally, The Belle. This is a beautiful fluffy blender brush that NIMA nickname the 'Magic Blender'. You should be able to apply eyeshadow on your eyelid and blend it out all with this brush.
We reckon just about anyone would be sorted for on-the-go makeup with this little brush set.