 Remember this post? That was my pristine makeup collection after I'd done a grand clearout of lots of stuff I wasn't using and wasn't ever going to use.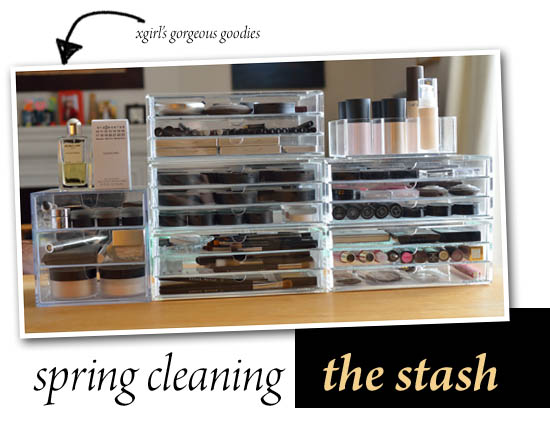 A year and a half later, the stash still looks very similar, but when I pulled out the items that I actually do use regularly, this was the situation: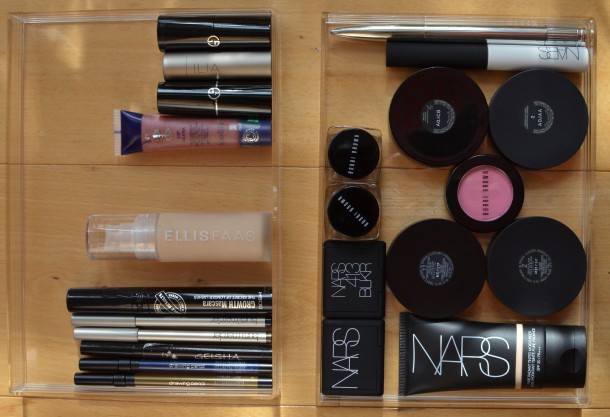 Yep, out of nineteen different drawers/containers, I'm regularly using stuff from about two of them. In other words, I'm probably using about ten percent of my makeup wardrobe ninety percent of the time, to quote that common statistic about our clothing wardrobes.
Now, in fairness, I didn't count the makeup brushes that take up some of that space (that's a story for another post), but still; that's a lot of makeup I'm not using!
And I don't even have the excuse of not being able to see it, considering the whole collection is fairly well laid out in my beloved Muji drawers that are see-through from all angles. (Read the storage category for more inspiration). Some of the neglect is down to lifestyle - I have lots of lovely eye makeup and lipsticks that are suitable for nights out that I don't really have at the moment and since I'm at home with the kids all day, the makeup I wear tends to be minimal, easily applied stuff.
Advertised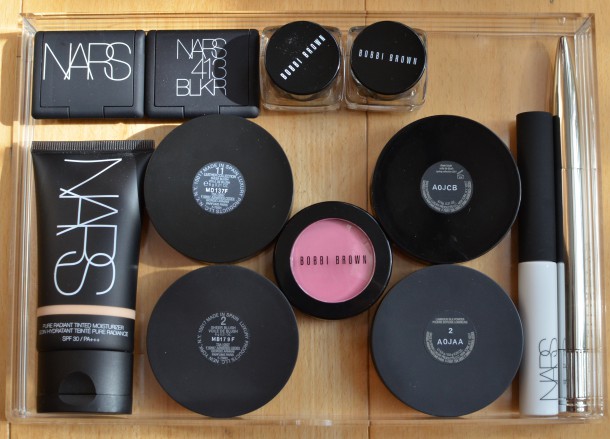 So, what does make it into regular rotation at the moment? Well, above you can see my much-loved NARS eye shadows in Lhasa and 413 Bleecker, Bobbi Brown Long Wear Cream Eye Shadows in Sand Dollar and Sandy Gold, blushes from Armani and Bobbi Brown, my NARS Pure Radiant Tinted Moisturiser and Smudge Proof Eyeshadow Base, Armani Luminous Silk Pressed Powder and Ellis Faas concealer.
And below are my favourite eyeliners at the moment - pencils from Shu Uemura and Laura Mercier and my Geisha Ink liquid liner as well as my GOSH Growth Mascara, Ellis Faas foundation and sheer lip colours from Armani, Neal's Yard Remedies and Ilia Beauty.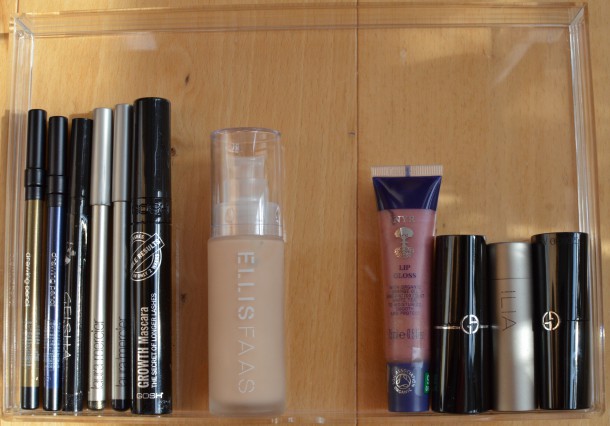 Never fear, I won't be tossing out some of my favourite items (I'm looking at you, Chanel and Armani eye shadows) just because I don't wear them much now. It's reassuring to know they're there for the rare grown-up engagements that do come my way. They just probably won't be joined by too many of their kind in the near future.
What about you? Do you have a big collection that you only skim the surface of or are you good at regularly using everything you own? Take to the comments and let us know!
Advertised
Want more storage reads? Get some inspiration here with everything from Muji, Ikea and er cutlery drawer ideas