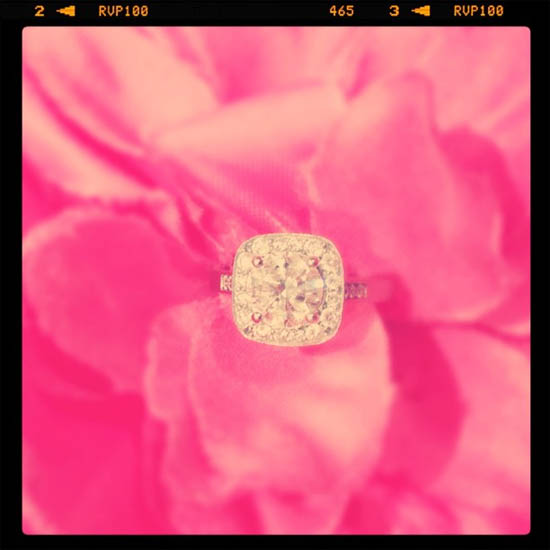 Lynnie's absolutely beautiful ring
When Himself proposed to me on our 10th anniversary at the end of October last year, I was completely taken by surprise. Apparently I was the only person in the world who didn't see it coming, and for anyone who doubts that I could have been all *that* shocked, let me put it to you this way.
If I'd been expecting that a one-kneed question was on the agenda, you can bet your ass that I'd have been wearing something other than the faintly sparkling bitter chocolate brown of OPI My Private Jet for the occasion.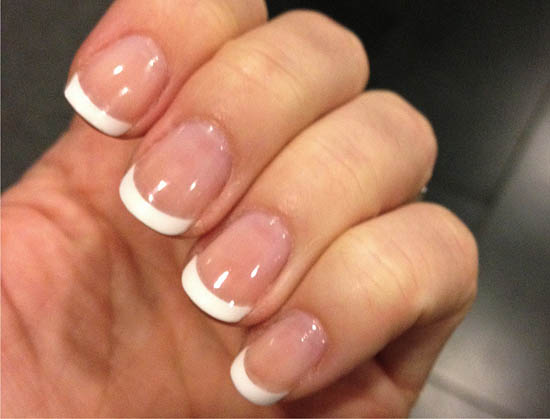 The classic French
Initially, I found it difficult to find paint jobs which would complement (rather than compete for attention with) my ring. I mean, sure, a classic French manicure would have looked elegant and set off the bling nicely, but personally I think they're deadly boring.
So in the event that any of you ladies received some sparkly new jewellery for your fourth finger over the last little while and are fed up of the French, here's how I've been rocking (pun totally intended) mine.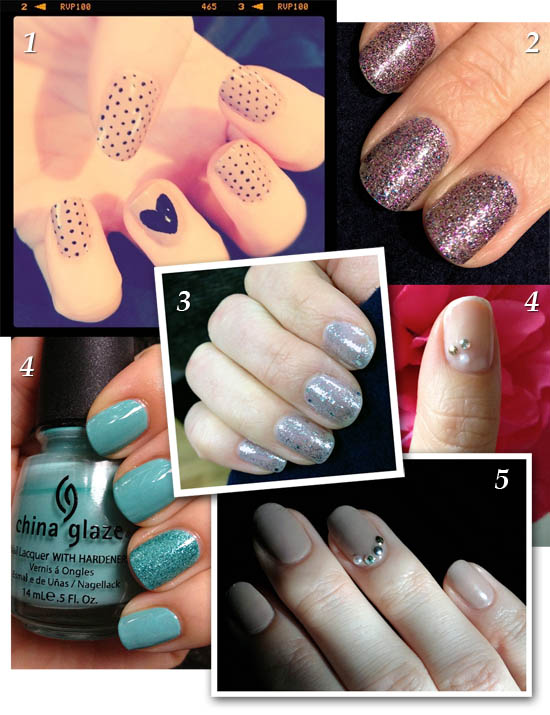 1. Toned-down nail art
Well, black polka dots and an accent heart on beige (Mavala Rose Dust) is toned down for me...
2 & 3. Glitter monster
I eased back in to glitter by way of sparkling nail tips... and then I went a bit glitter mad. Mostly, I've been sticking with 'neutral' glitter polishes in the form of pale golds and silvers, which sparkle happily beside my ring.
Advertised
I thought that Deborah Lippmann Today Was A Fairytale (3) would look the most awesome sauce of all my glitters and I liked both the name and the fact that it apparently contains diamond powder, but the sheer base leans very blue and I just ended up looking frostbitten.
Le sigh.
I actually had better luck with OPI Mad As A Hatter (2), despite it being a completely bonkers mix of coloured glitter.
4. Au natural(ish)
Essence Better Than Gel Nails were my first port of call (plain French, top pic) and they looked okay, but I got fed up with them long before the first signs of wear appeared.
For my next attempt at a French, I hand-painted white tips, topped with two coats of Bourjois Rose Ballerina, and added low-key embellishment in the form of a single pearl or stud at the base of each nail, with a couple of additional pieces on the thumbs to create a subtle accent nail.
Much better.
For magpies, random, jagged silver gold (rather than harsh yellow gold) glitter tips on a natural pale pink base also look great.
4. The accent nail
There's the argument that a sparkler on your ring finger should be all the adornment it needs, but as a more is more kinda gal I'm still big on accent nails. My favourites so far have been a semi-circle of mixed studs at the base of a neutral manicure of Mavala Rose Dust (see pic 5) and a turquoise glitter atop the Tiffany blue of China Glaze For Audrey.
5. Nicely neutral
My collection of beiges and greiges has been getting a major workout since we got engaged: they're far and away my favourite quick fix for an everything-appropriate manicure anyway, but since they make fingers look longer and lend a polished look to hands, they make a great backdrop for showing off new bling.
Dark, vampy colours may be perfectly on trend for winter but I still can't wear them with my ring - they look inexplicably strange next to it - and I'm reaching more for pinks, golds and turquoises instead.
Advertised
If you've gotten engaged recently, congratulations! And do tell: what are you wearing on your nails with your new bling?