 When you're planning your Halloween costume, unless you are super organised, you might have forgotten the icing on the cake - your nails.
Considering vampire or zombie costumes are some of the easiest and effective looks to achieve, we found you the perfect nail varnish to finish off your look.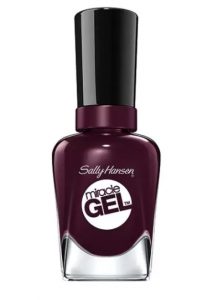 Sally Hansen Miracle Gel €12.99
Advertised
This deep burgundy nail varnish is the perfect tone to amplify your vampire or zombie costume this Halloween. The almost black colour goes on like a dream and the miracle system lasts like a shellac; a two-week polish with no light needed. The polish doesn't chip, either, and trust me when I say that. I'm the type of person who can only wear long-lasting polish as the regular stuff literally lasts a day as I work with my hands. This polish lasts and lasts and the best part is that is that it's easily removed in the comfort of your own home.
Sally Hansen has a good few new shades out now, so there is something for everyone even beyond Halloween.
Whats your go-to nail varnish colour?