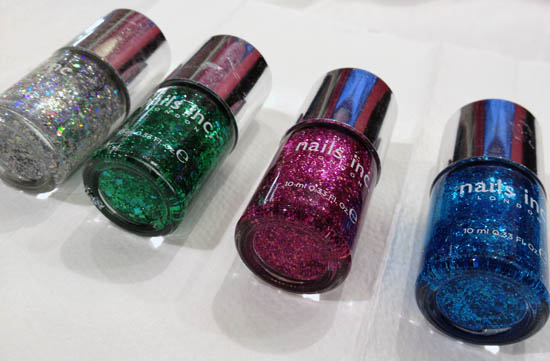 In the paraphrased words of saucy Dervla Kirwan in the M&S ads, these are not just glitters, these are NAIL JEWELLERY.
"Pshaw", I thought, when I got the invite to go along to check them out pre-launch. "Haven't Nails Inc gotten awful above themselves with the names there now, and sure isn't it just a bit of auld glitther?"
Possibly I was smoking a clay pipe and clutching a crocheted scarf to my shoulders while single-handedly launching a currach into the sea as I was thinking this. Possibly.
Anyway, the most important thing about the above is I was WRONG.
Yes.
Doesn't happen often but I'll own up to it when I do.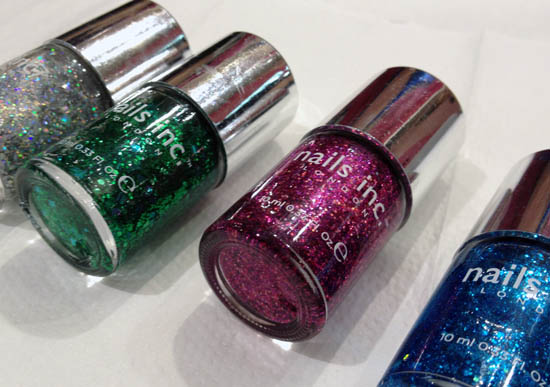 Burlington Arcade (silver holo); Picadilly Arcade (emerald); Princess Arcade (pink); Royal Arcade (sapphire)
Advertised
In April, Nails Inc will launch four new, limited edition super-saturated blimmin' brilliantly blingin' glitters that they're calling Nail Jewellery. €16.50 is the damage - so the same as their regular bottles of paint - and they are actually oh-so-good. Packed, rammed, heaving they are with lots of differently sized pailettes and sequins, these are in a clear suspension and all have instant impact from coat one thanks to the sheer amount of particles in each bottle. No chance of being disappointed with the finish of any of these, I'd wager.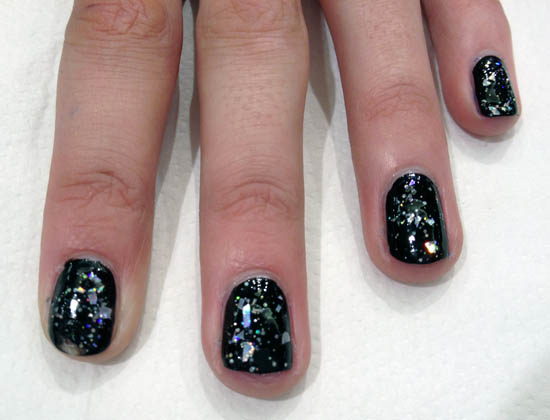 Burlington Arcade Diamond Nail Jewellery layered over Black Taxi nail polish
While my personal pref with spangles is to use solo and layer and then layer some more, the way the brand is selling these is as last-step topcoat. They all look particularly pop-py over a black base like Black Taxi, but did I go for that when it came to be my turn? Did I heck.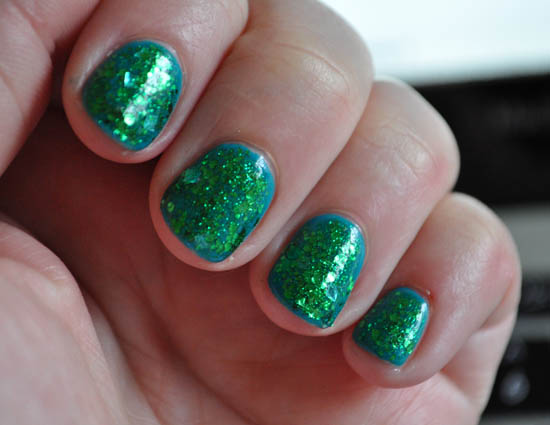 It's Patrick's weekend so I asked for green, and then more green. Sure hey, why not. I was actually so over-excited about the GLITTER and the REFLECTION and the SHINE that I neglected to take a note of the base shade but it's either Seven Dials or Warwick Way. Topper? Picadilly Arcade Emerald Nail Jewellery of course. And god, isn't it absolutely frigging gorgeous?
So. Yes, I'm kinda swayed. I love glitter; these are great. If you like glitter, then you will fall down all over yourself for these. Queue for them - they are fun, they're effective, they're limited and they are going to absolutely fly off the shelves.
Psst: that's not all from Nails Inc - in May look for some new Magnet Polishes in three shades with a new fishnet magnet pattern and then later in early summer, there'll be pastel fine glitter polishes and neon crackle landing.
Advertised